UK Hot Rod News .
If you have any News or Gossip you feel the UK Hot Rodding world should know about then send it to me right away for immediate inclusion on here. Be Honest and as accurate as you possibly can.
---
If you have a modified car of any age we need you to Unite and help fight this iminent ruling by the European union.
Read all about it here http://www.the-ace.org.uk/armageddon/
Sign petition here http://epetitions.direct.gov.uk/petitions/37784

Write to your MEP here http://www.writetothem.com/
This is for real and will make for some very expensive ornaments if it is allowed to become law!!! Fight Fight Fight !!!!
---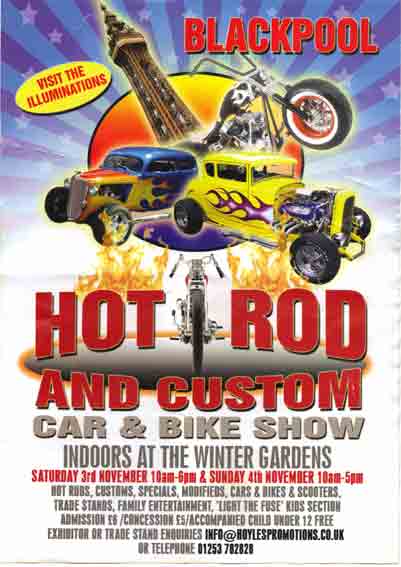 Yeah it's back the Famous Blackpool Indoor Hot Rod & Custom Show. Being put on by the original promoter Shaun Hoyle more info e-mail
---
UK Hot Rods Rodding Forum Lawrence who hosts this web site for the UK Hotrods web site, has been asked if he could set up a UK Forum on this web site and Lawrence is seriously looking into desigining one for us. So if you are into the Rodding scene then do sign up when it is up and running and hopefully we can have a friendly and informative place to talk Rodding. I know there are a couple of sites already with established Forums but hopefully this will compliment them or maybe offer an alternative with not to much censorship or corparate intervention and it will be free.
---
Stolen pride an joy: Please help us locate and return this car to its rightful owner
http://www.oldskoolford.co.uk/forum/viewtopic.php?f=3&t=131526
An Ambassador Blue 100e.
It has light mods and still runs the standard sidevalve. The owner is absolutely devastated so if you have any leads let me know and I can passon the info website@uk-hotrods.co.uk There have been a spate of thefts of modified cars recently so lets get these low lifes stopped now!

---
New Rod, Custom Bike Run Wellingborough
The George Inn Main Road Wilby, Wellingborough NN8 2UB is the place to be Saturday 1st October. for the 1st and hopefully an Annual event for anyone into the American Car, Bike or Hot Rod scene.
There is parking for around 50 to 60 cars and an area that can be used for camping. Music on etc FREE entry inc camping for anyone wanting to stay. Click here for a flyer and more info


---
New for 2011 Custom Bike and Hot Rod show to be held in Oxford click here for flyer

2011 Euronats The 2011 will be in Belgium, Click Here to go to the host clubs web site and Click Here for the flyer.

Fancy a Christmas Rod Gig? " Greasy Cold Turkey!"

Then West Midlands premier Rockin', Hotrod, Kustom & Bike meet the otherside of Christmas!!

Hot Rockabilly sounds from the Desperate deejaying duo The MOUSERIDERS!

Performing Wild
Doghouse
Rockabilly,
Our Guest Band…The Bravo Boys!

Christmas Bank Holiday Monday, Dec 27th!
The Fun begins at 2:30pm in the afternoon…FREE ADMISSION!!!

Address: West one Bar, 159 Worcester Road, Hagley, DY9 0NW.

Further details ring: 07973 717749 Click here for Flyer

Deuce of Spades DVD ( thought I had stopped updating this site... er so did I) ;o)...... Came out of retirement to let you know the exciting news that the eagerly awaited Hot Rod DVD "Deuce of Spades" is very near ready to ship and is promised to be ready for Christmas, so what ya waiting for go and get yours pre-orderd or see the trailer clips here www.keithharman.com

Uk Hot Rods is dead Long live Uk Hot Rods! Well that's it guys, the end!..

Yep I mean really it, The End....! my last rod run this season and my last write up. Yes my last write up. I have done this site now for 10yr, loved every minute and made some just awesome friends, some I hope will be life long friends as I really enjoy their company and feel honored and privileged to know them. I know this site made that happen, it has been good to me and I still want it to continue. But I feel I have taken it as far as I can and now it needs some new blood to put their stamp on it and take it forward.

So if you think you are capable of taking over the reins of the Uk Hot Rods web site and have a real passion for our hobby, then drop me a line at website@uk-hotrods.co.uk and we can talk about it. Love to everyone who has become a friend over the last 10yrs and thank you for reading and looking at my web site... I am gonna miss doing this site but I just feel time is time and I need to do something else.. Cheers xxxxxx

Keith Harman Uk Automotive (Hot Rod) journalist and photographer Keith Harman has just launched a cool new web site dedicated to his work and love for Hot Rodding, featuring Rod Runs in the UK and USA. Also the start of a catalogue of photos putting faces to names in the Hot/Street Rodding world so go check it out now http://www.keithharman.com/index.htm

NSRA: Northern Swap Meet:The new venue for the NSRA Northern Swap Meet is :-
Elsecar Heritage centre
Barnsley,
Just off junction 36 of the M1
Date Sunday 7th November 2010

It will be 90% indoors just incase of the wet weather.
Anybody interested in trading phone Richard on 07910735685

Rad Rods 4 available from Raygun Industries and a damn good viewing it is to. Cole Foster's interview is particularly good, I don't think he has built a bike I don't lust after. There is loads of stuff on this edition, California Hot Rod Reunion for the nostalgia Drag fans, some awesome old Funny car runs and pits footage, finished off with a mind blowing Cacklefest There are interviews with UK Rod builders and owners, like Marcus from Juarez with some ace looking Rods in progress. Wayne Allman is a very talented Builder and comes over a real nice guy, well they all do to be honest. Jim Turnbull's Roadster sounds awesome and he does a great interview along with is partner Julie (Miss Jaycee) who run Royal Kustoms.. I have started now as I didn't intend to by naming people cus you know even with the best intentions you miss somebody out don't ya!!! There is some fantastic footage of Nads in his Packard powered ex drag 34 coupe ragging it on the Florida roads, worth it just for this alone. The best part for me though was the Lonestar roundup ( full DVD of this available to which I intend on getting).. and to round it off a great interview with Edd Brown the latest keeper of one of the most influential and respected Rods in UK Rodding History Andromeda. Edd just comes out with some classics in the interview and had me laughing most of the time.. great guy and Rod. So what ya waiting for just pop along to http://www.raygun-industries.co.uk/ and get ya hands on another cool Hot Rod DVD I could go on but why when you can see it all when you get your own copy..

Stourbridge West One Bar, 159 Worcester Road, Hagley nr Stourbridge, DY9 0NW from 7:30pm. Its free in and all Rods, Kustoms and Bikes are welcome. There is a special £2 food menu inside the venue and Hot Rockin tunes bein played by our DJs Duncan and Mick with Hotrod DVDs played in the background on wide screens. Friday 3rd September, a night called Greasy Meltdown with a live rockin band called "The Muskrats" again free admission…

Click

d

ate

for in

fo flyer

.... 3rd September This is a regular Monthly meeting called "Greasy Wednesdays" the Wednesday the meet falls on does change from month to month…So best ringing Duncan on 07973717749 for more details.

NASC Street Rod Nats Ipswitch (Thee must do run) has managed to score a great deal for anyone wanting to drive down and stop overnight on the Thursay night ready for a fresh early start to the Nats Friday Morning read the flyer to see details..Click Here

Scottish Run Brian Watson has organised a Rod run with a difference this will tour Local Rod builders workshops and garages, sounds like a cracking idea, more details see flyer.. Click here

American Auto Mags Graham Rennie has added even more fantastic mags to his amazing store go check out the latest publications Click Here

Racing Posters Fantastic web site selling reproduced Racing posters from the 30's through 1970's cool as go check it out now Click Here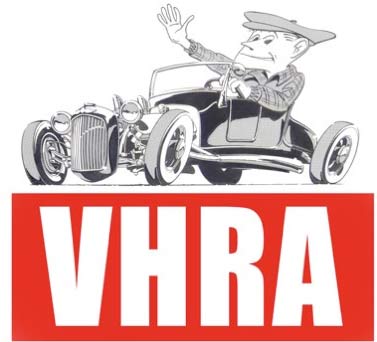 Vintage Hot Rod Association (UK) "There's a new club in town for owners of traditional style hot rod and custom owners here in the UK. Just a month old but already making waves on the scene is the Vintage Hot Rod Association. To become a member of the VHRA ownership of a pre '49 American vehicle or counterpart is a must. The car has to be built in a traditional style, with that definition ranging from the 1910's through to the early 1960's. From a Model T flivver through to a 6 carbed, overhead milled hot rod or anything in between, as long as it's built to evoke a bygone era using a liberal smattering of vintage parts you'll be welcome at the VHRA. The associations aims are to promote and support traditional hot rodding here in the UK. In place for members is an exclusively negotiated insurance scheme and also links with the DVLA to assist with the registering of cars as and when required. On top of this they are proud to sponsor the trophies at the bi-annual thrashing of sidevalve powered cars at the Flathead Meltdown. Signing up costs just £15 for the year and includes an exclusive T shirt and sticker pack. For more information on how to get on board get on over to www.vhra.co.uk."

Peterborough Meet: First Friday of the Month. 7th May is the first meet at the Botolph Arms pub Orton Longueville
Peterborough. 465 Oundle Road, Orton Longueville, Peterborough,
Cambridgeshire, PE2 7DD, This is easily accessible from the A47, A605 and
the A1.

All meet at 7pm for drinks and a chat. All welcome with or without a ride.

If the weather is good, please feel free to park on the grass out the front
of the pub, please reverse on as to cause as minimal damage to the grass as
possible. This is the only thing that the owner has stipulated. The owner
was very enthusiastic about the possiblity of the different types of
vehicles that could be attending. So please I have put a lot of time into
this (just ask my work colleague) so I would appreciate if we could get a
good turn out. I am looking to arranging maybe a bi-monthly cruise to
various locations around the area, and hopefully some summer events over
quiet weekends in the summer, like a treasure hunt type cruise?

If you have any questions please feel free to call Stu on 07739286320
Detonators Car Club are into the Traditional style of Hot Rod and Custom and life style are holding a Hot Rod, Custom and Bike show "The Hot Rod Rumble" go see thier flyer all in aid of Help for Heroes -- Click Here
Clapham Classic Events If you are into the UK Hot Rodding scene you will know or know of Dave and Lesley Brown (Bare alloy A40 Van). Dave and Lasely who know how to organise a run are putting together some great shows or meets for us. All one dayer's A Roadster show, my favoourite a Truck and Van show..... and a end of season bash all should be great fun and recomended go to their web site Click Here to read all about it....
Piston Apparel is the name of a new company offering some great Hot Rod style T-shirts.. about the best I have seen to be honest go look'y and shoppee!!! Click Here
NSRA Rod Runs Scoop a couple of amazing things on the menu this season at the NSRA organised Rod Runs. First Billing this year, the featured vehicals will be pre 1972 Pickup trucks.... Yeeha now that should be an awesome sight, Something I have wanted to happen for years... and even more amazing and exciting is Pete Chapouris will be the weekend guest of the Supernats with special guest apearence on the Sunday of Billy F Gibbons (ZZ Top) WoW!!!!!
Repro Mullins Trailers Well known and respected Rodder Pete Whiteside, has purchased the moulds for Mullins Trailers and has now gone into the manufacture of them and exccelent quality they look to, I have seen the demo it's perfect. They come as a kit basic to a complete bolt together kit, part of fully built... your choice. If you fancy that cool looking trailer that only a Mulllins can offer, then Pete is your man.. discuss your requirments on 01772 652203 (H) or 077528 78030 (M).. go on you know your Rod deserves one!
Hot Rods and Hills. Thanks to the hard work of Northern Rodder Craig Dixon, the Hot Rods and Hills run is securely on the UK Rodding map as a must do event. Now in its 3rd year and growing all the time. Not content with all the work this run takes, Craig ha now added 2 more must do's. Titled, Hot Rods and Thrills, what is planned is a couple of days drag's up a local (if you live in the northwest that is) airfield and all that goes with a meet like this. Just like club runs of old... more info go to Craig's web site www.hotrodsandhills.co.uk Seeya there!
Rod Runs in the UK I must apologize for being so late updating the events calendar, but apart from Mickey Tebbs sending me info of his great Run (The Northern hot rod holiday) nobody has sent me any official events and dates. I usually get them from the NASC and the NSRA but not a sausage from either? So thanks to a bit of research I have complied the best I can all the events I feel are relative to our scene.
Motorgems is a UK based specialist car and parts for sale web site. Looks very professional and has some nice cars for sale. Have a look round, dream or buy your dream Click Here
Detonators Car Club Latest Uk Web site is the Detonators car club site... some fantastic photos... girls, cars fun!! what more do you want. This is how we should all enjoy our scene.. so don't mess about check it out Dadio!!!!!!! Click Here
Custom Jag Diff covers, look amazing and not daft money either go check em out Click here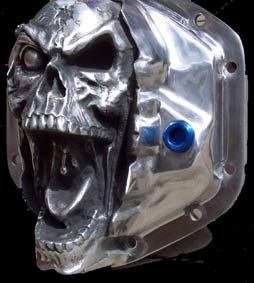 Info Wanted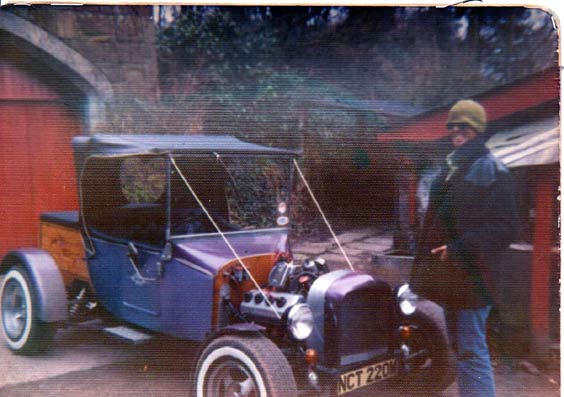 Do you recognize this T (photo form 1974) a past owner was wondering if anyone knew anything about where it maybe now or any of its history since this photo... E-Mail me
Retro Photos: Neil Read who must be one of the best if not THEE best Hot Rod photographer in the UK has put a book together of his amazing photos.. You really gotta buy this book if you are into art, photography or Hot Rodding.. this guy has an amazing talent and eye for what is right and cool about our scene.. so what ya waiting for go get it... Click Here or visit his web site for a look at his stunning photos Click Here
MY LPG TANK: following a break down from running out of LPG, when I came to fill my empty tank it only took 54ltr. After talking with my good mate Harry Dawson who has fit many LPG systems, it turns out I had my tank leaning the wrong way, so the pickup pipe was not in the liquid at the bottom of the tank. I was sat about halfway up the tank.. Derrrr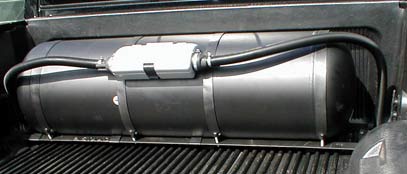 This is how it should sit, ;o) So if anyone has their tank same as I did mine... its wong you need to lean it backwards like this.. or as I intend to do, turn the tank 180 degrees round so the pipes etc face the cab..
Baileigh Industrial: Have an enormous selection of Wheeling Machines, bead rollers, tube/pipe bender, belt sanders in fact every machine you could imagine and some you couldn't even imagine.. so look now even if its only for a dream some amazing stuff here Click Here
---
Whitby Kustom and Rod show 31st October ( New event) more info click here
NASC Web based Forum goes live this Friday 14th August see the NASC web site for details.
NASC Street Rod Nats... Get a load of this for some fun with your Car Click here
Pinstripping and Kustom graphics issue 12 is on offer for £1 go check it out on e-bay
9 Inch Alluminium Diff casings Just had this sent from an Australian company who make the most amazing Alloy 9inch casing and axles Click Here And they are looking for a UK Distributor.
Re-enactment : Retro and Revival Style Today
An exhibition of photography, fashion and motorcycles.
September 14th - 20th at The Old Truman Brewery, Brick Lane, London E1 6QL. FREE ADMISSION: Featuring Ryo Bamba, Nick Clements, William Gentle, Matt
Hind, Nathan Small and Neal from retro photos. Sponsored by www.mensfile.com magazine. More info click here
Pinstriping and Kustom Graphics issue 15 out now and if you go to the web site Click Here you can get 7 issues for price of 6 delivered to your door.. offer ends Sat 1st August so hurry.

RodKatz New web site set up by Toad, cool site for cool people into the Hot Rod and Rockin Scene Click Here.
Turtle TrailersBritish based firm supplying cool little caravans in kit form or ready built, look real cool but don't take my word for it, go take a look Click Here
Hopped Up. A superb looking book all about the European culture of Hot Rodding go check it out now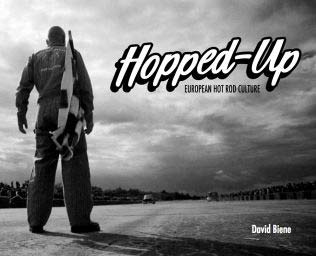 Click Here
Well just had an e-mail that Graham who is putting up the £10k prize has had a relapse and his cancer has spread. So he will have to go have an operation and more Chemo and wont be able to attend the shows and promote his Raffle as he wanted to.. A full refund will be given to anyone who has purchased tickets off Geordie Paul, or possibly it will be postponed until next season... I am awaiting more info.. Our thoughts will be with Graham and his partner Janet who hopefully will get on the right side of this nightmare soon.... x
Your chance to win £10,000 worth of Duksville goodies. Yes 10 thousand pounds worth.. Graham Shaw was diagnosed with cancer and his number was nearly up.. So as a thank you to Christies hospital, Graham has come up with a way, people into his favorite Hobby Rodding can benefit for full details CLICK HERE!!!
Hot Rod Blog Freelance Hot Rod journo Keith Harman has set up a Hot Rod Blog telling us all about his Rodding exploits... it is superb and more than worth a look... check it out now Click Here
Ashton-under-lyne Lancashire Bike and Rod show a new show being put on by the Assassin's MCC for details Cancelled
Pinstriping and Kustom Graphics issue 14 order yours now click here
Airbrush masterclass limited numbers so book your class as early as you can for the July session Click here for info
Teardrop Hire ever fancied going to a Rod Run with a cool Teardrop being towed behind your Rod? Then dream no more now you can hire one from here http://www.teardroptrailerhire.co.uk/ and they look superb... don't they.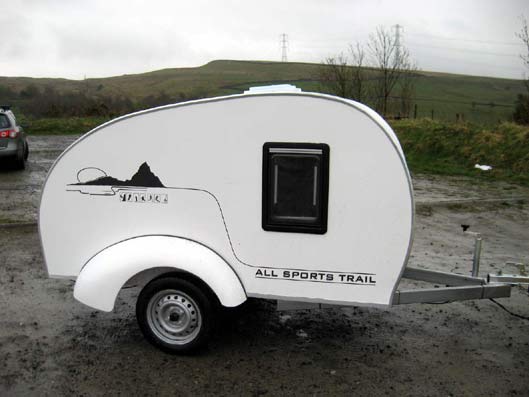 Pinstriping Uk have an Easter Offer on for details go to their web sitewww.pinstripinguk.com
NASC Neil's Springnats Drayton Manor. Probably the best family Run of the season is now open to everyone not just paid up NASC members, which has got to be a good thing. The site is perfect for a family run as there is free entry for all weekend campers into the fantastic Theme park and good Zoo, so all the family are happy. The Run on the Saturday is again to Curburough race track with free track time for all. http://www.rodandcustom.co.uk/springnats2009.html for full info.. this really is a must do run.
Pinstriping and Custom Magazine new blog www.pandkg.com
American Auto Mags latest Click here
New London Breakfast Meet monthly breakfast meet,for the kustom kultured obsessed,hot rods, ratrods,kustoms,classics,chops 'n' bobbers welcome. last sunday of the month 8.30am till mid-day, oxleas wood cafe,crown woods lane,shooters hill, se18 3ja
Revenge Bodies Frank at Karma Kustoms has made up some new Revenge style bodies from a new mould.. as you would expect from Frank this is a quality product at a very reasonable price how about £800... WoW go get yours now Click Here (New web site soon so no link yet) Mail me and I will give you Franks e-mail More info:The inside finish is flowcoating. salt and oil resistant mainly used in boating. Only six will be made. so it is a limited run. Frank also has the original fender moulds front and rear.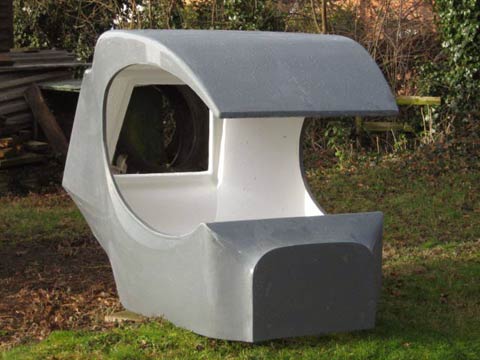 Crown Deluxe just the coolest Sunglasses you can buy, go check em out Click Here
Kustom Design & illustration web site from Janne Kutja from Finland showcasing all his fine Auto Art, with Rods and Kustoms etc Click here
Chevy Nuts new Uk based web site devoted to the 55,56,57 Chevy's Click Here
Hot Rods and Hills Craig Dixon's the guy behind the fantastic Lake District Run, "Hot Rods & Hills". Now has a web site devoted solely to this must do Run. Go check it out now, Click Here it is still under construction, so low on photo's, but trust me this is one of the best Venues and drives out of any Rod Run in the UK. You could always look at my write ups I guess, as there are some photos there until Craig gets em sorted.
Stolen Truck help find it... Click here for info
Rad Rods III The latest in the Rad Rods Trilogy is now hot off the press's and well worth the wait. Featuring interviews with the UK's most prolific Rod building legend Langy..... (some good out takes to) US Tough guy and Kustom builder Alex Gambino, Ex Pat Steve Dennish from California Limeworks all give great interviews and show us round some of their cool builds.. oh and not forgetting Ex Skateboarder Steve Gaballero and Don Dillard of Dons hot rod pages... "Phew" there's even more though a shame no interview with Jessie James when at West Coast Choppers.... maybe next time eh...... Well it sure is a fun packed DVD and amazing value with some good coverage of the Hayride, Hot Rod Holiday and Chops and Rods... some banter with another ex pat a32flathead (though he aint got one) ;o)... all in all a fantastic watch with some real good rocking tunes to add even more atmosphere.. The Hayride ride section has some great footage of the Cool Rods that attend this lifestyle meet and the Banger track racing is superb, with its first ever casualty ( 32 roadster) being Jim Turnbull.... So what ya waiting for go get yasen a copy from www.raygun-industries.co.uk you wont regret it.
Issue 11 of Pinstriping and Kustom graphics is about due order your copy online Click here
Ray Mumford web site update and make over

http://www.raymumford.com Ray has had his web site updates and a great make over. Those who don't remember Ray he was one of if not the most popular and respected Custom Painters and now has a site dedicated to his work. Also does anyone have any photos of a T owned by "Mitch" Mitchell (Drummer in Jimi Hendrix Experience). All Ray can remember is that it was predominantly shades of blue and Ray named it something like 'Fire and Ice' or similar. It was something that related to one of their songs (Fire) ?. Any info on it would be interesting.
Gothic Limo and Auto haul Check this site out if you are into the Goth scene or want to create a stir when you arrive at a do also linked to their vehicle transporting business, worth a visit just to listen to the music on their video.
Smokers Banned, Fox Hunt's Banned.. Speed Camera's... CCTV on every corner.. Heavy fines for eating or drinking in your car even if you are stopped at traffic lights... 4 x 4 owners the new Pariah ( a test in my view) I could go on.. so yeah who's next ?? Click here Latest on the spot fines if you dont switch your engine off in a traffic jam, which bright spark thought that one up... can you imagine it, cars not running so you can use your mobile.... er eat... drink... oh bugger the queue is moving.. put drink down.. switch of mobile... start car. frig it wont start... aye up its started... give it a rev use more fuel.. drive 10ft do it again... Jeez I hate what is happening to this country.
I wanted to just say a massive thank you to Pete and Sandra Whiteside (while on holiday) and Steve Dennish www.limeworkspeedshop.com for putting themselves out and getting me a new wheel cap and some mirrors for my Truck.

I lost a hub cap from my Truck and thought how the chuff can I get another. I exhausted all the UK avenue's and then remembered Pete and Sandra where out in California for a Hot Rod Holiday, so I hatched a plan. Little knowing what hassle I would cause everyone. I emailed Steve Dennish www.limeworkspeedshop.com asking could he help and get a pr of baby moon caps and a set of new mirrors for my F100. Now Steve does not really know me and certainly doesn't owe me anything but I just hoped. I then text (cheaper than a call Pete well Sandra really as I only had here mobile) and sat back and hoped all would go to plan... Then I got a text Nothing at Limeworks.. Then an e-mail from Steve, he had been away in the UK ironically and had just got my e-mail, but he would get me my parts no problem...
So I then text Sandra again, and she said very nice but they were now 400mile away in Pleasanton at the Goodguys run.. "Oh bugger" So I rang Steve he said no problem get them to ring me and I will post the bits up to their Hotel..
Well Pete and Sandra where coming back home on the thursday and the Mirrors arrived Tuesday and Pete had to go to Wheel Vintiques for the Caps. Guess what no caps... a quick call from the guy on the wheel vintique stand and he found they had been left back in so-cal luckily Pete had gone there on the THursday before... so he got them posted post haste and they arrived just in time.. so all's well that ends well. But Pete, Sandra and Steve all had to put them selves out to get them and I very much appreciate that. It even Cost Sandra and Pete a few bob in phone calls so "sorry"... I just am so glad I have my lost cap replaced and my crappy old mirrors changed. I cant thank them all enough, all for the love of Rodding I guess and helping a fellow rodder out.. Cheers
Where not to stick your finger Read all about one young ladies tale of woe, or the owner of the car with the rare item she got her digit stuck in's woe really click here
Chrome Plating Garry Meechan has just informed me his company now have a 6ft chroming bath and so can now do bumpers, grills etc check it out at WWW.SEDDONANDSON.CO.UK With full polishing facilities for all alloys and castings.... so what ya waiting for!
Pinstriping Mag Latest edition now out! Lynda Johnson has sent me info on the latest edition of Pinstriping and Custom graphic Mag which look awesome to read all about and order you copy follow this link say uk-hotrods sent you www.pandkg.com
Personal Registration numbers Check out this web site www.regtransfers.co.uk they do a free 84page glossy mag Published quarterly, each issue is jam-packed with articles, stories, news and celebrity interviews. At the very least check out the registration on offer some are real cool others funny as fuk..
Pete Tyas Just had news sent that Pete Tyas has opened a tattoo parlor and is doing some amazing work take a peak at this Tiki.. Click Here
Wet and Wild... 11th - 13th July the guys who have put this great show on for s many years are calling it a day. This will be the very last Chasewater Wet and Wild Run... a bloody shame as I have always enjoyed this run when I managed to get there. So be part of history and make the effort to get to this one More info Click Here
I had my boring LPG air pan transformed by Degs at http://www.engravingart.co.uk/home.html from an ugly boring saucepan to a work of art and a proper feature in my engine bay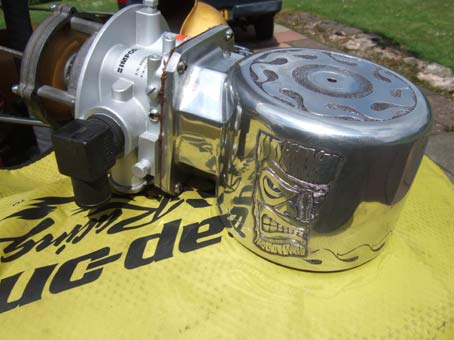 I cant praise Degs enough, it was just what I wanted, and all done by hand which blows me away. I am sure there are many aspirations that this amazing art form can transform parts in your engine bay, body interior or exterior into real stand out parts and add detail never seen before on Rods.
Cool models:
just had this sent to me, from a guy in the Uk who is doing some fantastic models some of our kind of cars that would look superb on any mantle piece or display cabinet.. If I wasn't so skint I would buy the F100 one for sure its.. go check them out http://www.crazycreationsuk.com
KOOL WHEELS WEEKEND 3rd - 5th MAY 08 CANCELLED DUE TO WATER LOGGED FIELD.

Rod and Classic Mart.Ray Newman who built the rod and classic mart site and has run it for over 7yrs now and all for free (The Love of Rodding) has been hit with some real bad health issues and has found it time to give up the site. It has been a fantastic media for us all to benefit from over the years and has sold many Rods. I for one want to thank Ray from bottom of my heart for all the hard work he put into this great site... and now wish Russ Grieve all the best and thank him for taking the reins from Ray and keeping the site going Hip Hip Hooray to both of you.
Ink and Iron NEC The Ink and Iron show has been cancelled here is the official announcement http://www.inkandiron.co.uk/
L'il John Buttera yet another well known and respected US rod builder has passed away (today 2nd March) .
2nd Annual Hot Rod and Hills Run (English Lake district) Craig Dixon who lives in Penrith organised a superb Hot Rod weekend last year with drives out over the stunning Lakeland roads and Pass's with a fantastic venue to stay at and a superb Band on the Saturday night it is one to definitely put in your calendars of must do runs in 2008 more details click here:
Boyd Coddington Dies: Real sad news to anyone who is in Rodding in the world. A great man who was an amazing Rod Painter and designer in his own right, and helped create some awesome and ground breaking designs in the Hot Rodding world. His attention to detail and flow of all the parts used inspired many. His influences abound and reputedly a genuine nice guy to. I am very sad I have enjoyed seeing his work from the 80's to date he will be missed by many people full story here, http://jalopnik.com/361391/boyd-coddington-hot-rod-king-dead-at-age-63
Hot Rod meet every third Wednesday of the month at The Phoenix Inn in Hartley Wintney and we wondering if we could link this to your members for up coming events. Meets start from 7pm, join us for a drink and a warm friendly atmosphere at this motoring heritage pub. www.phoenixinn.co.uk
Hot Rod Chopper Tattoo convention show! WoW I have known of this Tattoo convention for years but never made the effort to get there always something else on or to do. Well this year it is going to have Hot Rods and Choppers there with BIG money prizes. A total experience I would cocoa.. And one I am definitely doing, if you like Rods, Choppers and people watching this will be THEE event. Lets Back this indoor show as THEY genuinely want us there.. So be there or be oblong, more details Click here for the flyer and put it in your calendar for next year's must do along with the Bulldog Bash.
( I am not into the modern trend of allowing Scooters at chopper shows, but such is the nature of the beast now... being a teenage motorbike rider from the early 70's they still chill me to the bone) ;o)
Latest on the rebirth of Street Odyssey Pop: A few more photos and some words from its new owner Lee Picton. My apologies I have had this info and photos for quite a few weeks and I have just been a lazy arse is the truth of the matter and never uploaded them but here they are better late than never eh... sorry ;o) Click here
New Rod/Drag racing book Click here
My good Mate Mark aka Pudzz has just bought himself a Glass 32 Sedan and finally joined our happy gang and to say his is ecstatic with excitement would be an understatement go see for your self Click Here
Rad Rods 2 The guys at Raygun industries have come up with another fantastic DVD packed with Uk Rodding entertainment with a hard Hot Rod music soundtrack this is a must buy go get yours now at http://www.ray-gun-industries.zoomshare.com/ or be totally out of it!
UK Hot Rod show case Get your hands and eyes on a great UK Hot Rods book here www.hotrodshowcase.co.uk . This is a professional well presented book with superb photos and write ups about UK built Hot rods.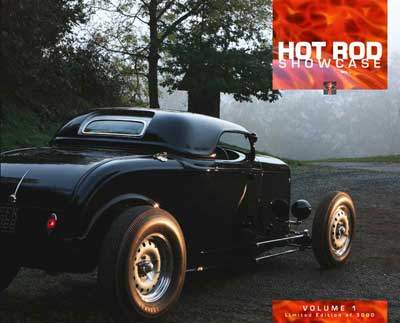 Street Odyssey The ex rutherford Brothers Pop Street Odyssey is now in the hands of Lee Picton and is undergoing a full rebuild/revamp. I have no photos of the rebuild or what style it will be but here is a photos as it was, I think in its 2nd guise after it got bent by a canned Murphy as Custom Car quoted the accident. Click Here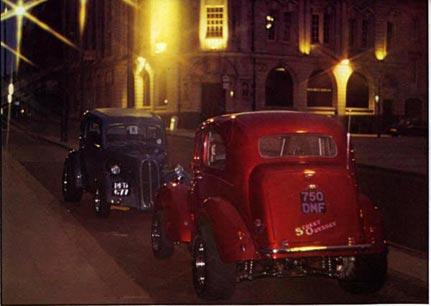 SumpPlugs.com New online shop for fast-drain plugs. Takes a tail-and-drain fitting for much faster cleaner oil drain. See . Also suitable for other fluids including fuel. The site is run by Wayne V8 Trabant and designed by Bill of UK Hot Rods.
Pre 49 Video a guy called Trevor who lives in Barrow in Furness where the Pre 49'er went to took a video of the Rods entering the Sunday Lunch destination go to you tube and enter Pre 49 that should find it or go to his link at gekiryudojo on you tube.
Adrian Smith Yep Ade has a web site now still under construction but shows a couple of shots of his stunning Rod creations http://www.bucklandautomotive.com/ If you have seen his latest creation you know you want one!
Chopper Hobbs Finally unsung hero Chopper Hobbs has got a web site. He is a genuine Rod building character who goes amongst us mostly unseen, now go have a look at what he does he is a dude chopper Hobbs Hail Chopper.
Engraving Art Ever seen proper Metal engraving, I had my Bike done many years ago and it is a stunning effect. Now you can get bits on your Rod or Kustom done, so get them creative juices flowing and be Cool this season www.engravingart.co.uk/
Chrome Plating Just had an e-mail sent from a chrome plating company in Lancashire who also do chrome paint, anodizing and much more. 01282447550 or www.seddonandson.co.uk They do ship all over the UK.
New Cruise meet Suffolk American Car and Hot Rod Meet, The Barking Fox, Barking (Nr Needham Market) IP6 8HP (if you have Sat Nav) Last Sunday of the Month from 2.30pm ring Barry for details 07957 225660
John (Pod) Derbyshire I have just found this site dedicated to the late Pod Derbyshire, put together by his daughter Kirsty, which I find a really cool thing to do.. I know if anything happens to me I would love something like that.. It has Pod's latest project that he was working on when he passed away. A very cool looking 37, it also lists his old projects with some write ups. A very nice site and a great tribute for someone who did enjoy Rodding..http://pic5.piczo.com/podsrod/?g=31505971&cr=5 try this link hopefully it works.
A couple of new web sites I have been sent both USA ones but worth a look one sells some cool period style stickers and stuff and has a is Hot Rodding dead cheesyish Video www.porkystruckstop.com The other is called Reid's Rod parts *Hum?* sounds familiar ;o) This guy has some amazing amount of stock its looks like a proper Aladdin's cave go looks see if ya don't believe me.. www.reidsrodparts.com
Bristol Hot Rods new web site real swish with some great photos etc go look now Click here
Brit Chopper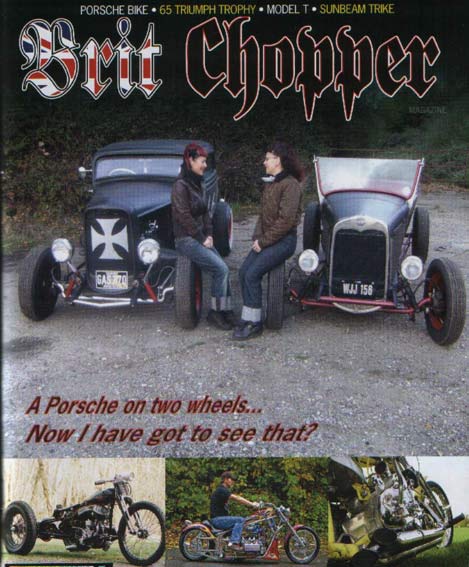 Just bought a couple of back issues of this new mag aimed at the Rod and Chop builder and enthusiast. I must say first glance is one of a very impressive and quality product. Full to the brim with articles on how to's, Bikes, builders, Rods and their builders, shows and so on, bloody brilliant I say. You can tell it is put together by real enthusiasts who understand what we are into and why we do it. The bikes and cars are not all the perfect and darent be used variety either. These Rods and bikes are built with use in mind warts and all. But not rough for rough's sake, these are built with vision and passion as any perfect Rod is... er maybe more so?? What ever this mag is cool without being pretentious and up its fukin sell like some US mags that promote the bare bones styleee ;o) Anyway don't listen to me not that anybody does any way .. go order ya copy now. info@britchopper.co.uk say Holmsey sent ya, wont do you any good but it may do me some ;o)