Remembering our Rodding Mates
I am not to sure how to do this page so any ideas would be gratefully received. I just feel we seem to have lost so many Rodding Friends recently, that we need somewhere to celebrate what they did for our great Hobby/Obsession. Somewhere we can share our stories about them. Why they were so special to us and give an insight to who they were..... I am not qualified in any way to comment on any of the guys who have Passed away, so I need people to send me their memories of them to share. I have just a few e-mails to use so far, please let me know if this is a good idea or a bad one as I do not wish to offend anyone or seem insensitive in anyway.
---
Paul Towers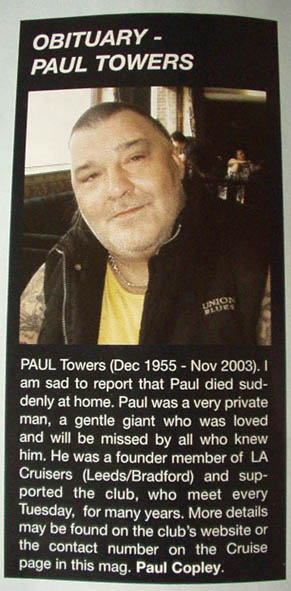 This is an insert that was put in Classic American about LA Crusiers Club President and Chairman Paul Towers.
Paul was well known in the Northern Yankee Car Club scene.
We all miss his wit, friendship, and anything goes laid back attitude to car frustrations (if it goes, don't mess with it. etc).
Our hearts go out to his ex wife Carol, who always remained very close to Paul, and is still in our club as a kingpin member.

Guy Burdon (for all LA Cruisers)
Paul Towers
Paul's first trip abroad:

It was a sunny day in August 1980 when we set off on a trip to Morocco. Paul had never been abroad before, but what an adventure he was going to have.

We started the long Journey to Gatwick, only to find that the plane was delayed slightly, but no worries. We boarded the plane which duly took off and started to climb. Suddenly, the engine noise changed, Paul went white and said "What was that?" We reassured him that it was normal, just the pilot putting it into 5th gear. Not long after, the Pilot and Co pilot decided to come into the cabin, Paul wanted to know who was flying the plane? We explained, as best we could about autopilot. Having settled down again it was announced that anyone wanting to visit the flight deck was quite welcome to do so providing they saw a member of the cabin crew, which we did. They assumed that all 4 of us would be visiting but no, Paul was staying put, in seat 13, and drinking his vodka.

Everything went fine on arrival at Tangiers airport, until we reached immigration where we were greeted by officials with sub machine guns telling us to open our bags. After slight hesitation due to nerves, all our bags were opened and Carol's and my knickers were all over the bench, much to Paul's amusement! On arriving at Camp Africa, fairly late in the evening, we were given the sweetest sickliest mint tea ever, so we decided to have a beer and go to bed (for bed read mattresses on a sand floor in a thatched mud hut) Next morning we got up and went about our ablutions and came back to the huts, Paul's face was a picture. He thought he had gone into the wrong toilet block because when he was having a pee, a woman was cleaning the floor between his feet. (Apparently normal practice in this camp).

The day passed fine, all on the beach in swimwear, Paul in his denims! It was very hot so we decided to have a beer, in fact Paul was the first to the bar only to discover that the strongest beer, called Boc came out of the fridge frozen - not watered down then? At lunchtime, we went to the café for something to eat. All the time we were sat there the staff on the camp kept coming and taking Paul and Brian's Rizla papers, we couldn't understand why until they ran out. It was like the Spanish Inquisition, "why do you want cigarette papers, what are you smoking? They thought they were smoking the local whacky baccy.

On a trip to the local town, Paul saw a leather bag that he wanted so with our encouragement he decided to buy it. Having never bartered before, he was slightly apprehensive (shaking like a jelly) but he managed to get it for ½ the asking price, much to the amusement of the shopkeepers son who set about congratulating Paul by giving him several slaps on the back.

Paul was delighted with his purchase and had the bag for many years.

Paul really enjoyed that holiday, he put his heart and soul into it. We had a great time on all the holidays we had together, we love him and miss him.

Lynne Patterson

---

Paul Towers

Paul and His Toys

Paul always loved his toys. He started off with bikes and originally had a Kawasaki KH250. True to form, the middle pot never worked. One day Paul went to buy some oil for the bike and came back with a Yamaha XS 650 US Custom. He tried to claim that it was cheaper than having to constantly top up the KH with oil!!!

His next "unusual" vehicle was a Jago Jeep, built around a Ford Anglia. I came home from work to find an open copy of Auto Trader on the coffee table. There was a massive circle around a picture of the jeep and a bubble drawn on that said "Paulie's". We desperately needed double glazing but both agreed that the jeep would be more fun. A trip to Doncaster with his mate Ian later, and the jeep was on the drive.

Just after his purchase, my Mum, my sister and I saw Paul driving the Jeep along Farnley Ring Road in Leeds with Ian in the passenger seat. The top was down, they were wearing sunglasses and T shirts with rolled up sleeves. They were both flexing their muscles and looking cool - freezing to be more precise: it was heaving with snow!!

Although Paul's life was comparatively short, he packed more into it than most people who live much longer. He was a child at heart and his (bad) jokes were legendary.

I was listening to "Don't Fear the Reaper" (Blue Oyster Cult) today. I had a really wicked image of Paul on his final journey giving the Grim Reaper a melvin (and he probably did).

He was my husband for a long time and my best mate for even longer. I really miss him.





Carol Towers
---
Neil Meredith:
I had to speak to him on the phone quite often. This had to be carefully planned, as if there was anything on T.V. you wanted to watch, it was best to allow plenty of time. There was no such thing as a 'quick' phone call to Neil! He could talk for England, God bless him! Nessie
My thoughts of Neil and Liz go back to '94 when we were in Florida together, I hired a Chrysler ragtop and off we went to the Tampa Nats, a brilliant two weeks in the baking hot sun, and a guided tour from Neil to go with it. Many, many happy times that would take all to long to recite just now. It was Neil's enthusiasm for the place that has lead me to go back many times since. Another was when he pulled up outside my house in his Topolino... "just passing" he say's, "just called in for a kipper tie", that's cuppa tea for those of us that live on the outer limits of the Black Country, not bad when he lives an hour and a half away, anyway jumped in the little Topo' and away we went for a cruise around, visiting other local Rodders, bit of a tight squeeze when you consider the size of the both of us, two large peas in one very small pod doesn't even start to describe what it was like.
Good memories are easy to recall of Neil and Liz, because he was always there if you needed him, nothing was to much trouble, I'm really going to miss you Buddy, it was an honour to have you as a close friend. My thoughts are with Liz at this very hard time and we're here if you need us. A very popular guy who will be sadly missed. Gone but never forgotten. R.I.P. Neil.
From,
Mick and Tracey Tebbs

P.S. It was Neil that got me the nickname of 'Metalflake Mickey', him and his ideas indeed.
---
If it was not for Neil, I would not be in a black and gold shirt, When I first met Neil I was just getting in to this obsession we call Hot Rodding, And he took me under his wing as a youngster, No matter what was wrong he always had a smile on his face'

Wayne Vincent
NASC
---
I first met Neil to talk to back in 91 when he was fire Marshall at the Rex Centre Volksworld show! .We chatted and struck up a rapport as I spent my youth around the Midlands. When we started with UKK Neil and Liz were very supportive and we worked , hand in glove , to come up with special attractions at the Nats. I had great respect for his organizational skills and his attention to detail. He wouldn't just dot the i's and cross the t's, he'd measure them to make sure they were all the same.!!
When he was first diagnosed he played it all very close to his chest. he didn't want special treatment , just wanting to be allowed to get on with things. We became very close at this time sharing many of our experiences. I'm totally gutted that he didn't make . At runs we d usually just exchange quick pleasantries as I knew how busy he was though he'd never push you away or seem short with you. We d have hour long ( sometime several! LOL )phone calls where we d chat and put the world to rights. When we spent quality time together this year Neil bore his illness with dignity. I m going to miss him on a daily basis but will always remember him with great fondness.

Kev Rooney
---
I first met Neil in the early 80s,At a cruise in Stourbridge in which he put me in touch with the local rod club called Street Prowlers. After a few years the club disbanded and in the late 80s Neil helped myself and another friend Andy Taylor start up a club Called Riverside Rod 'N' Custom. Barry Woodford
---
I've known Neil all my life, as my parents were friends with him before I was even a twinkle in my Daddy's eye! Living a mile away from him means we've spent many a happy night at Neil and Lizs, packing up the Street Times. He sprayed my 100E (not JCB yellow!!) for the price of the paint, because I was 17 and so desperately wanted my car on the road, but couldn't afford it.
Yes, Neil was unique in his dedication to the sport, an inspiration and a genuinely nice bloke, but to me he was just Neil. And that's what I shall miss the most. All my love to both Liz and Neil.
Alix.
---
NASC Page devoted to Neil http://www.rodandcustom.co.uk/news_neil.html
---
Tommy Jarrett : Tommy was one of my best friends, he was one of the really special friends that you meet in life and never want to lose. The funerals tomorrow and I'm gonna shed a lot of tears. Neil again I knew really well, I just can't believe I've lost him as well, it still hasn't set in. Frank Carroll
---
Please feel free to add any names or stories and photo's send them to me at remembering@uk-hotrods.co.uk