Hot Rods and Hills 20011
This is the 5th year of Craig Dixon's Hot Rods and Hills run up in the beautiful setting of Pooley Bridge on the side of lake Ullswater in the awesome English Lake District. Even in kak weather the lakes are mind blowing and takes on a whole different look, with the water falls in full flow and the grass greener than a green thing that is green! This weekend was to give us all kinds of weather but mostly glorious sunshine which makes the mountain views and pass's cast shadows and shades better than anything that Wordsworth could describe in verse, no wonder so many poets and literary types are attracted and absorbed by the English lake District.
We decided to make as much of a holiday of this weekend as we possibly could, by booking time off work from Thursday, well Wednesday evening to be precise, but we didn't get away until the Thursday Morning as along with many other Ladies that seem to gravitate to the latest money spinning tour for Take That, Pudzz wife Sue went and swooned away as they crooned away on the wednesday night, so Thursday it would be... (I'll stick to Rammstein and Oomph) hey but each to there own.....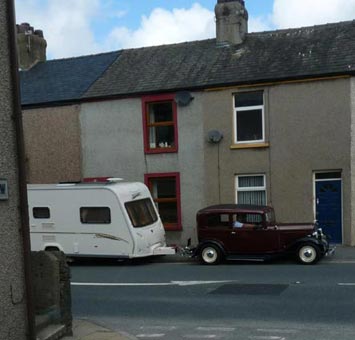 Pudzz waits for us at the bottom of our lane ready for the off.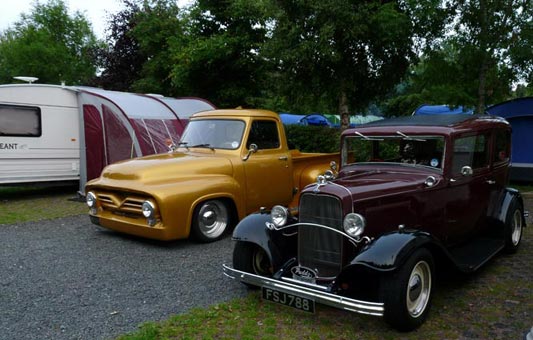 My Truck and Pudzz gorgeous 32 Sedan
So Thursday it was to be, we were all really looking forward to this do as it is so laid back with no back stabbing or trophy hunting prima donnas ;o) "sic" It's just enjoying the Cars people and scenery. Its just a short jaunt for us 1hr and once set up we could sit back and just relax.
There were a few early arrivals some came straight from Billing some just making a week off it and some just plain wanted to be there right from the beginning of the run er just like us. We had a look round a few cars about and then we hit the cider or wine in the case of the girls and that was pretty much us set.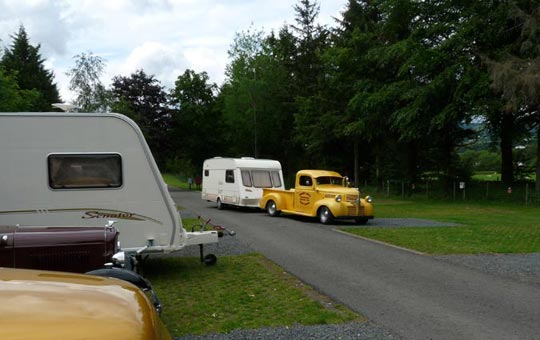 Truck Arrives up from the Midlands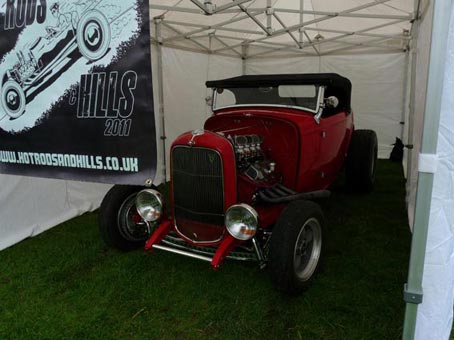 Our Host Craig Dixon's bitchin Roadster sits in the shade.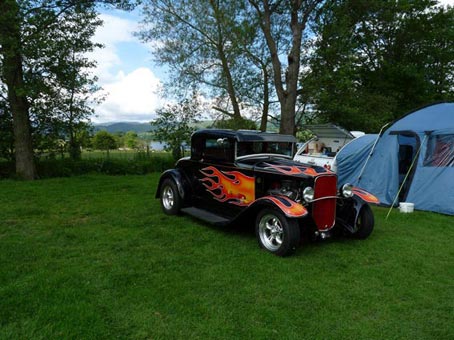 Brian (Totus) and his Wife Jackies cool A coupe drove down from Scotland to Billing then up to Ullswater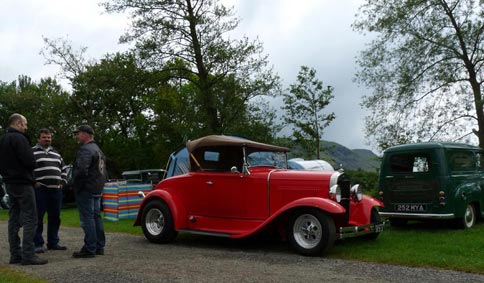 Another A from Scotland.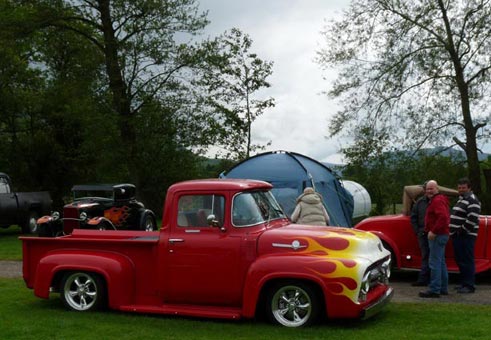 People just mingle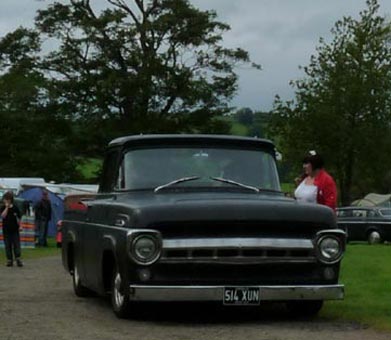 Cool Fleetside another Scottish machine.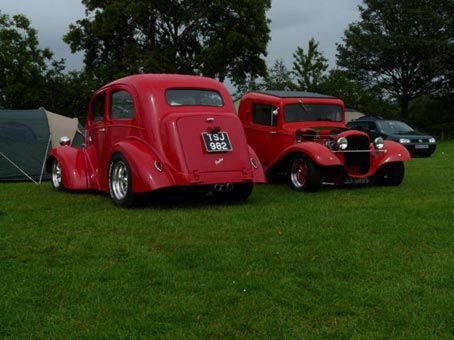 "Gear Jammers" Mick (Bomber) Barton's Pop sits nice and Rays Rods 33Plymouth owned by Marcus Trueman had ignition problems so got AA home saved on fuel though.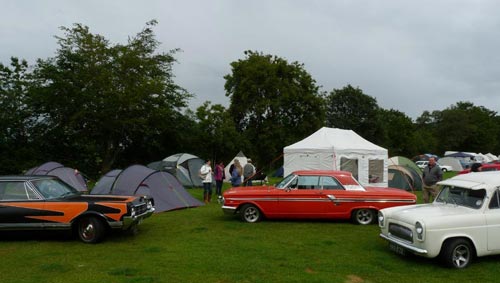 There is always a vast selection of all types of Rods, Customs, Street Machine etc at the Hot Rods and Hills. Here more of the Gear Jammers demonstrate that very fact. Find out more on their web site http://gearjammers.co.uk/
Friday saw a few more cars arrive and by the evening looked pretty rammed. The camp site is massive and well kept on the shore of the lake Ullswater and attracts hundreds of people all the time but Craig had secured a massive section of the best field on site for the tenter's while us posh folk took over most of the caravan pitches, mind you if you are real posh like Southerner's there are some very impressive wooden lodges for you if that takes ya fancy... ;o)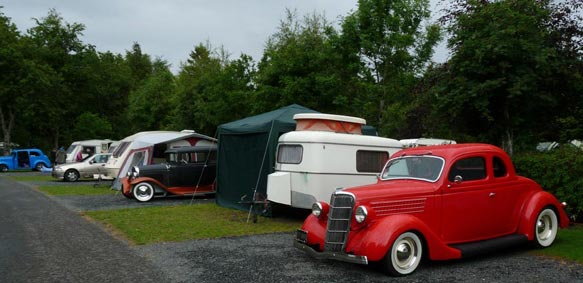 Here we are in the posh end, with Pete Edwards 35 taking prime spot location, location, location ;o)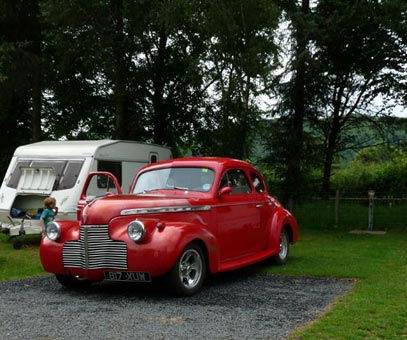 Over from Yorkshire and staying for a week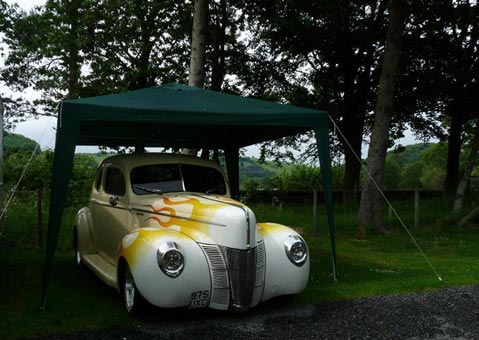 Thingy from Yorkshire's 40 Ford.
We just mingled talked, abused and generally had a laugh all day and night with a slight break for food in Pooley bridge, which seemed to be full of Rodders with the odd smattering of Crag Rat (walkers). We stayed out in the warm evening until fairly late, the rebel that is Brian Crossland had security come round about 11.30pm as his music was disturbing the other campers. He is so wild we are thinking we may not be able to keep knocking around with him anymore as he is a very bad influence on us quiet Northern hicks!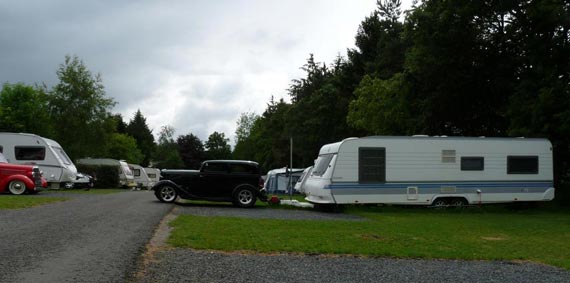 Wild Brian Crossland and wife Jill arrive fresh from Appelby Horse Fair.
I think we had a couple of drinks in the club house if my memory serves me right, but I fear I was so traumatized at £4 a pint I have blocked it completely from my mind, in fact I am 100% certain that may of happened ;o).
We did a fairly sensible end to the night back at our caravan and crashed about 1.30am well into planet Strongbow, with my mrs well into ros`e country.. "hic" that was that as far as I can be arsed remembering... Terrrrr seeya Sat... for the cruise..
Oh Yeah just came into my head, we went into Penrith Friday morning so I could get some cheap LPG and get some supplies. That was the only time I can remember we had some precipitation, which gave the truck a wash at least.
Outside while sheltering at Morrison's we witnessed some mobility rage. There was an old timer (you could tell he was once a big tough mutha hubbard) and this younger dude in a spas chariot just backs up without looking nearly running over the old guys tootsies "whoooo watch it ya friggin idiot" the old guy shouts " " I could seeya man I could seeya alright keep ya hair on"... "you bloody idiot you nearly ran into me" " No I never man I saw you" " you fucking dick head you never" " Hey what's up with ya Man... I was no where near you" " look fuck off dick head you did" ... Made me smile and I am sure if the young guy ( in his 40's) wasn't sat in the mobility scooter he would of got twated... The big guy walked off still pointing finger and swearing at him. Made my day!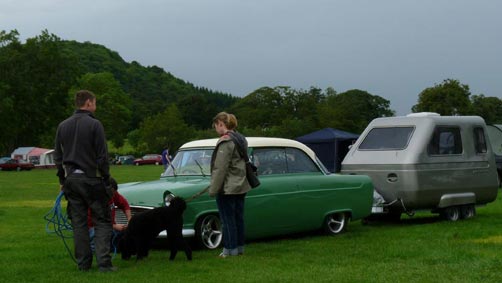 On the way back from town we followed a trail of trans fluid for miles I have a feeling (not definite) that the trail ended right here ;o)..