Up with the Lark for some circuits

The day was a tad overcast but no so bad... but as the 12 O'clock deadline for the cruise got nearer so did the rain clouds.
My son was riding shot gun in the Truck with me and Pudzz had some of his family in his 32 Sedan, followed by the rest of his clan in a daily.
I was surprised that so many did line up to partake of the Cruise as it was now lashing down. As ever Odgie braved what ever the elements could throw at him, "what a Hero".... the rain did ease off once we got a few miles up the road but was still persisting some.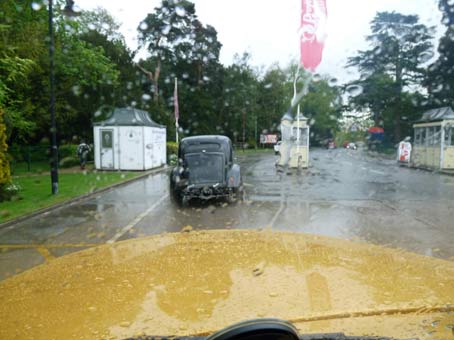 As we rounded a large round a bout with an on ramp to a dual carriageway, a young couple had up turtled their custom VW pickup.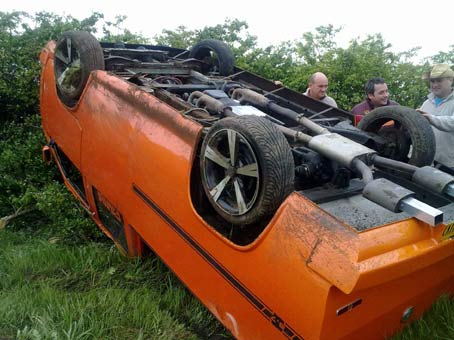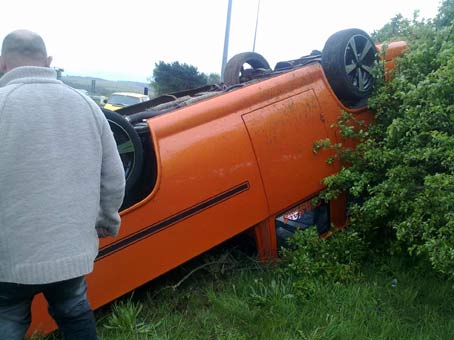 It is weird as I saw the pickup thus, and also parked at the side by it was a breakdown lowloader as I saw, and don't ask me why I just thought ahh someone has turtled but didn't twig it was one of us and that it had obviously just happened on the the cruise??? Why didn't I stop?? I have no excuse or explanation, I am one of those that has to think about things and by the time it had all been deciphered in my brain I was long gone. Now luckily my mate Pudzz is one of those who just jumps in and takes control of any situation and knows exactly what to do. he had stopped and with all his family and their boy friends they up righted the pickup. So it could be loaded up on a breakdown... er not the one stopped as it had a car on, that should of given the game away for me to stop.. Derrrr I must try harder.
Well we got to Curburough race circuit and even though it was pissing down quite a few Rods had a go, some with more success than others.

Lined up when the rain had a stop gap but ran (see below) when it was heaving down.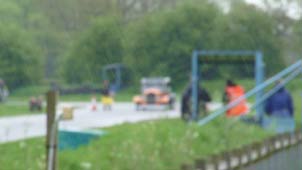 Cool Flamed 32 gives it a go in the peeing down rain.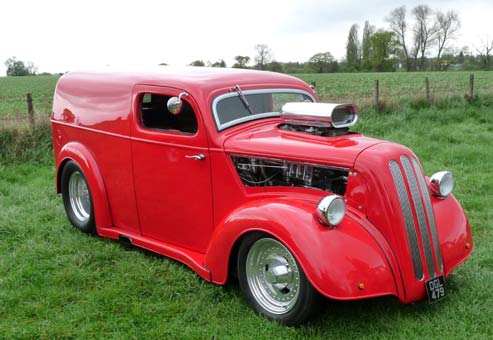 Some wild cars made the trip out to the track love this Blown Fordson.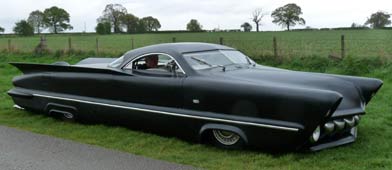 Errr not sure what this is and no I am not going to try and guess either, but it was wild and oh so low. Just found out its a Citroen.. cool.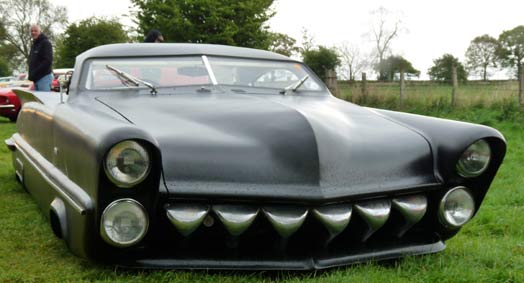 looks like a shark from many angles. (Title photo is the owner sat in it)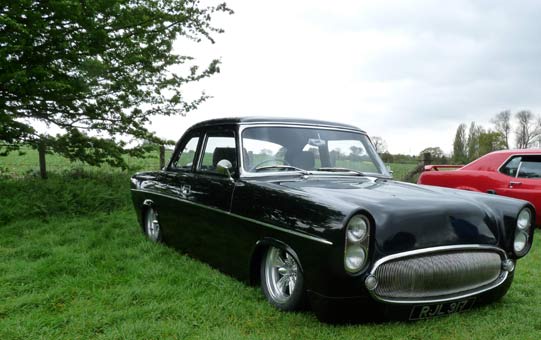 Real nice Zephyr took my eye and got a top ten place on the Sunday show day.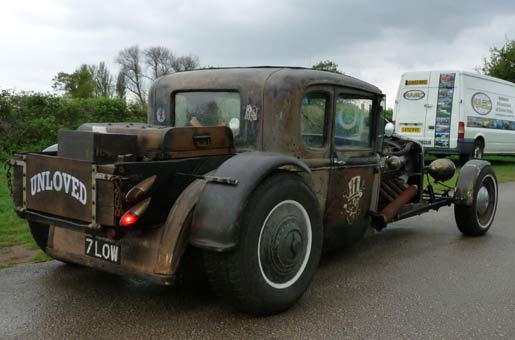 The now famous Unloved coupe, famous from the Audi advert, where to be honest it out shone the car that was supposed to be what the advert was about.. I wonder how many Audi drivers wished they really had the balls to drive/own Unloved eh.. I can see the bumper stickers now, my other car is Unloved ;o)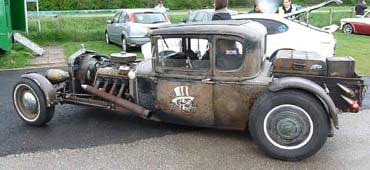 He had a ball on the track see one of his runs here on youtube
I have a few more I will load later of other cars.
Again a poor do from me as far as photos go, mind you my camera was getting a little bit wet today.
As we left the off ramp where the Orange VW had turtled, my very experienced banger driver mate Pudzz had a un scheduled power slide. much to his amusement and his passengers terror ;o).. they are fun if you know what you are doing but fatal if ya don't. So there must of been something on the on and off ramps of this round about to make the pickup slide out and turtle on the banking as it did.
Back at camp we placed a massive chinese order at the local takeaway and then toddled up to the club for the Saturday nights entertainment. Again I failed to do a walk round the camp site and meet people, look at cars and take photos. I did stop at camp Odgie for a cuppa and checked out his latest creation.. er but didn't take my camera. my only excuse was I had to take my two dogs out for some exercise and a dump which takes both my hands.. so just didn't find the time this year for the crack and the photos. Aarren was there with his new A coupe and was adamant I was to have a drive of it this weekend, but did I find time did I fuk.. how annoying is that.. I must make it a priority next time I see him and his coupe... Bugger!!!
well that's about all I can remember from the day time, the night do was OK.. ish... The Rock band just seemed to lack that real Rock kick for me and just didn't get me going. We had a good laugh mind and Bob Booth and the gang were having a riotous time of it, from what I could see they had come dressed in weird cod pieces much to the amusement of all around them... that's about it really.... didn't do owt else and didn't have a late night in the awning like we usually do either... a bit boring really.. better make up for that at Billing eh!! ;o)