Its Friday..6 O'Clock and its Neil's SprinNats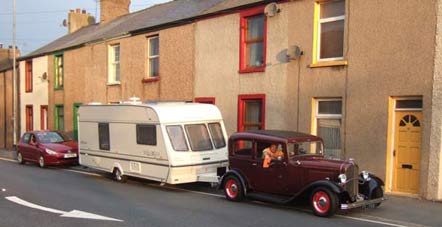 I worked every spare hour I had to try and get my F100 finished to debut it at Drayton Manor SpringNats but try as I might it just didn't happen and was I pee'd off.. oh yes. Puddz was to go to his first Rod Run in a Rod. His newly vamped 32 sedan looked cool as firk and he was also to be towing his posh caravan for the first time with it to.
We were all really looking forward to this run as it is a proper family event. The venue is second to none for family entertainment with the excellent Zoo and theme park. Also there are several take away's near and a massive Tesco etc.. so all your needs are catered for at this Run. So much so all my family went (well my son, daughter in law, 2 grand kids, my daughter and the wife) and all Pudzz Family to, with his three daughters and one of their boyfriends so we had a full tribe.
Last year was a total wash out and I even couldn't be arsed doing a write up, not because it was a wash out just cus I couldn't be arsed really as I was up to my eyes in my bloody Truck and still was.
We actually weren't ready yet so let Pudzz have a head start and we caught him up just passed Preston. Oh boy I was not prepared for what I was witnessing. Pudzz caravan was swaying about like a pendulum behind his 32, so much so me and my wife kept shouting out.. " Oh No.. Mark Mark... slow down pull in the side" and such like... it was one of the most frightening things I have ever seen.. eventually we got to a services and Mark (Pudzz) didn't seem to phased by it.. I was ashen with worry ;o).. but we/I found out the problem in his excitement he had his caravan wrongly weighted. with things like clothes, chairs and even his generator located at the rear of his van, which is a big no no.. all heavy stuff over the axle and to the front nothing heavy up in the cupboards etc etc.. once sorted it was a different vehicle and drove with no more drama.. ahhh nice!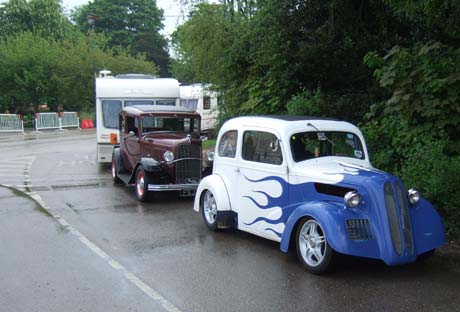 We eventually arrive and Pudzz parked up behind this neat looking Pop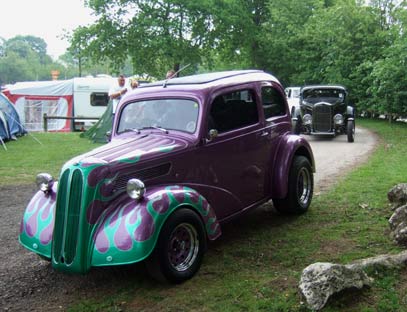 Another Cool Pop Arrives early, neat looking 32 is coming in to camp for the weekend to.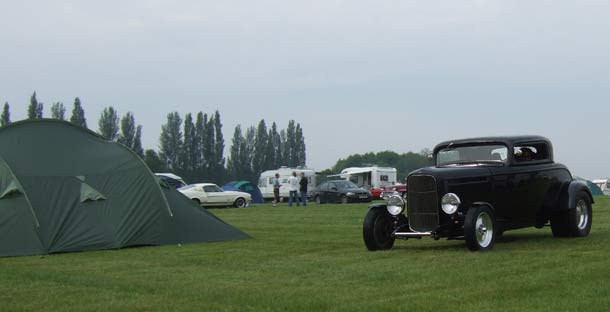 I love seeing Rods arrive, nice bobbed fendered 32 didn't disappoint as it burbled bye.
So we arrived unscathed at Drayton, we were greeted by some very friendly NASC crew and swiftly got camp set up. Once the provision's were got from Tesco we were ready to relax and just soak up the atmosphere that Drayton has. The Kids all went to the Theme Park, which is free to Rodders who stay the weekend and saved us a fortune.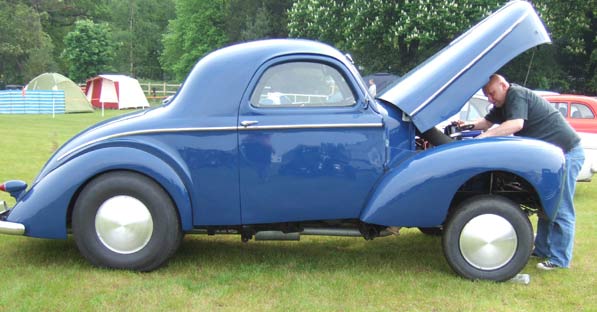 Running repairs on the willys'?
I had a look round what Rods were already here and Pudzz cleaned his car, which he is always doing.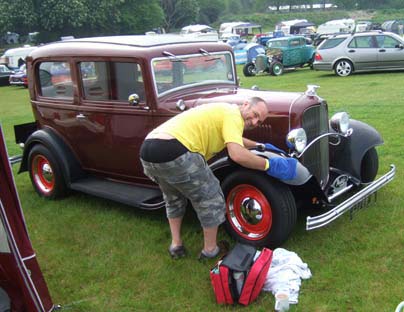 Pudzz looking all trendy like da yoof do with his kegs a kimbo!
There were some real nice machines already here and it was looking like this was going to be a great meet. Though a look down onto the show field showed a distinct lack of traders?? was it political? or was it last years shit weather that made them not turn up?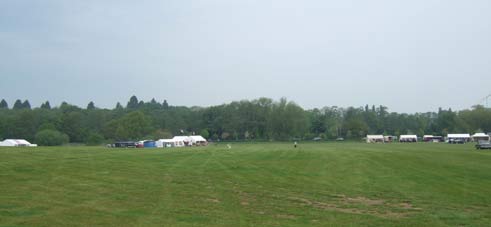 Where all da traders then??
I was not impressed I had my list of parts I needed from Stafford Vehicle Components and they hadn't turned up ahhhhhhhh they are there every year, why not this?? I was gutted I needed loads of parts and tube etc as I was full on into the wiring on my Truck and I needed these parts to get it finished as Billing was only round the corner.. Bugger!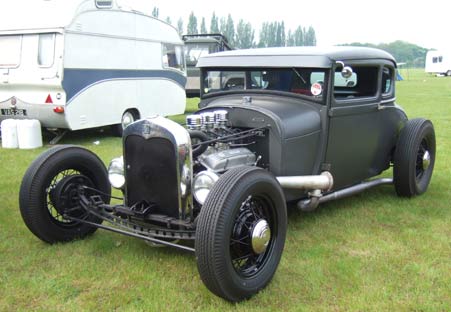 Aarren's gorgeous A Coupe fresh in from the US was just superb, about my most favorite Car of the meet.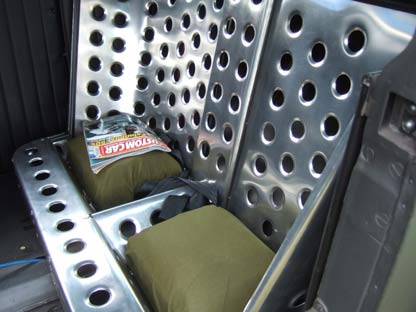 The seats were a work of art.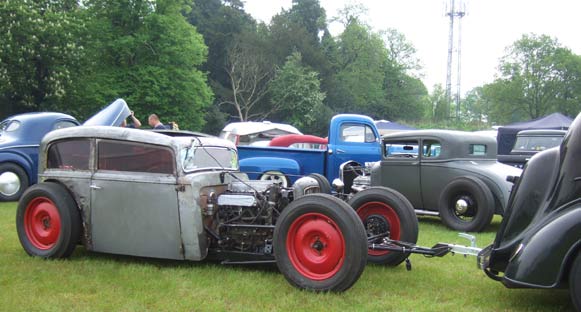 The old Rubellion was there arriving veer an A bar.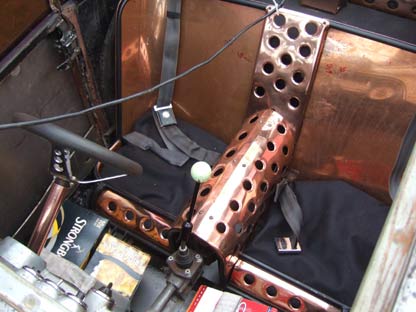 Crazy interior of Rubellion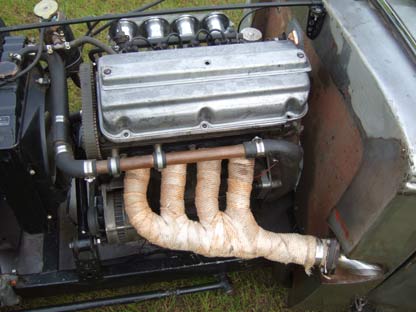 And how's this for a disguised Rover twin cam motor.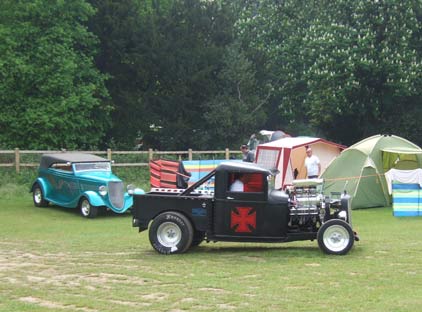 Local Run for Stu Smith and his wild blown Pick-up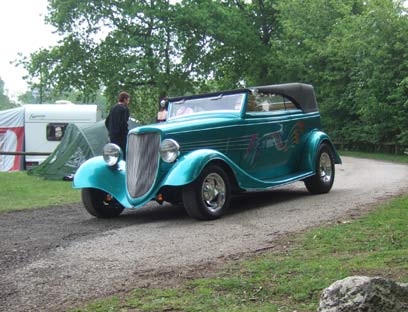 Real nice Hi-Tec 34 Sedan is one of my old favorites, got to know the owner quite well over the weekend. this was his first time at Drayton I hope he enjoyed it, we enjoyed his company, him and his party had even traveled further than us coming all the way from somerset.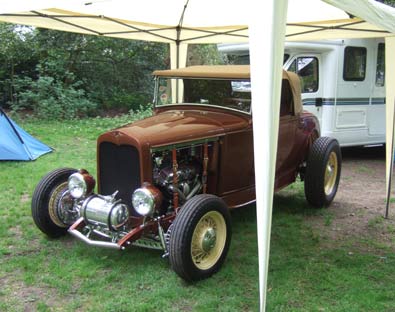 Sweat FA (2) was there for the weekend in its new guise with skinny crossplies and nice wires,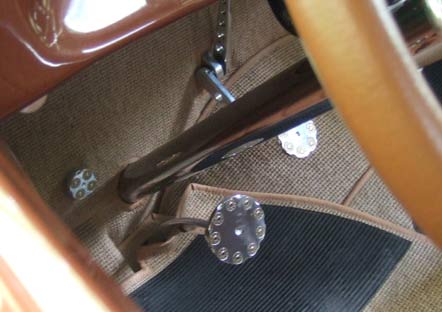 I loved the bullet style pedal's.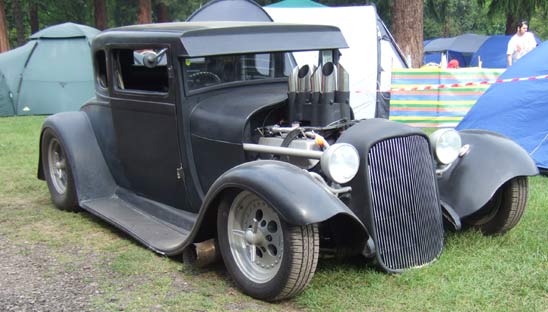 Wild A coupe caught my eye with dummy injection stacks. Developed a bad case of fuel drop over the weekend as its overflow or tank sprung a leak.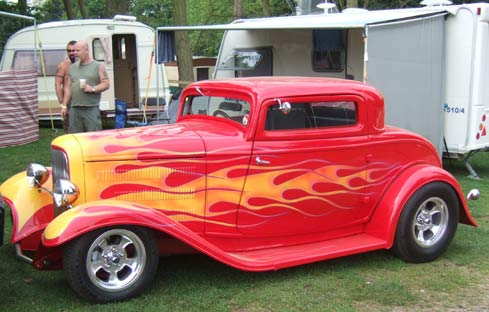 Parked with the mad a was this stunningly beautifully flamed 32.. bloody perfect.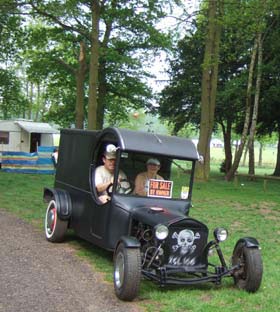 Remember when every Run had at least half a dozen C-cabs there.. this one was for sale. A lot of fun for not a daft lot of money I would say.
Well soon the evening came we were well fed and now needed watering and some good entertainment.. well the beer was good but the entertainment as in the disco was shyte with a capital S.. why when there is so much good music out there do fukin DJ's play the cha cha slide and whoops up side ya head.. jeez I hate disco's always have guess i always will and that was the whole weekends entertainment if you dare call it that.. shame as the NASC usually produce some stunning bands at Drayton.. but not this weekend maybe cus last year stole all their money because of the Kak weather that no one has any control over.. shame. As they work their socks of as everyone does who puts on an event for us lucky Rodders. well we had a great night anyway just talking laughing and takin da pee out of everyone. ended up an early night as none of the Scottish guys we usually hook up with were there either.