Sunday is Show day...



Started Sunday with a full English at Billing Cafe, the old Asian gent who runs the place is quite a character and runs the place like a finely tuned machine to, real good value and a great way to start any day.
We parked the cars/truck outside and soon a crowd started to form. Bakey let some kids who were there with there Dad sit in his Pop and they were over the moon. Me, Pudzz and Craig were far to hungry for any of that malarkey and almost ran into the Cafe/restaurant.
We wolfed down our breaky's along with three cups of strong Coffee *burp*... ahhh now I was ready. We met Paul Burgess a guy we all know from the ukhotrods e-mail group and had a good old natter which we carried on outside as we finished our last cup of Coffee in the sunshine.
A guy was milling round my Truck in a wheelchair and I got real anxious a few times as he negotiated his way rockily round the newly painted panels on my F100.. with some gusto I might add.. He eventually came over to us and asked who owned the F100.
I do I said, oh right I am building a 58 doing it in Gold with caddy lights to he smiled, you have beaten me to it.. I let him have a good look round it now and showed him the interior and he was well impressed with Mick Shepherds work (Premier auto trim Wigan) mind you so is everyone who see's it.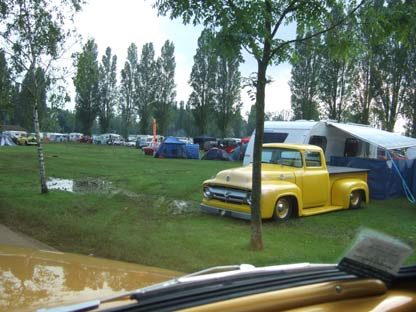 Didnt see this 56 F100 move all wekend, it looked well water logged earlier on Friday.
Back at camp I was shamed into washing Saturdays grime off and gave it a half hearted leathering off so it looked presentable. Though the paint looks quite mustard and almost boring with no sun on it and the sun had gone in... ;o(.. but wow's into a totally different colour once the sun hits it.. so I was praying for the sun to come back out so people would get the full impact of the paint .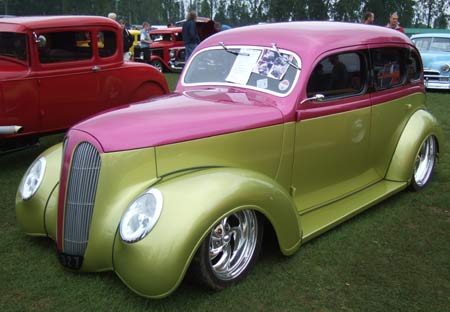 Mark Belchers awseome Hi-Tec 36 Chrysler nice to see some Hi-tec.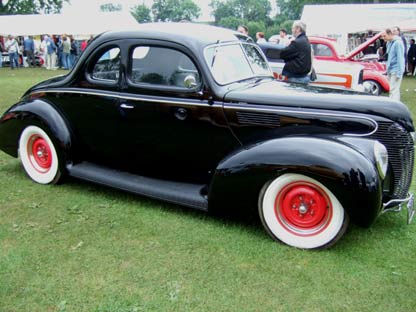 I Had this cool Coupe the other side of me so I was in great company
We (me, Bake's and Pudzz) put our cars on the show field, which was somewhat shrunk as the main field was water logged. They were packing them in as close as they could, as space was at a premium and tried to get me to park with my back end almost touching the row behind... I refused, I said I am not doing all that work to the rear of my Truck to get it scratched as some numpty rides down the back on a bike or hits it with a pushchair... so I thought Na.... I am not parking here.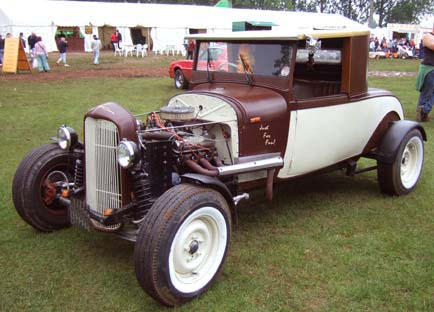 This looks Fun saw it at Drayton, had a bit of a crack with the owner there to
Like a proper prima donna I guess, ooow listen to him with his poncy shiny Truck.. all high and mighty ;o) But I thought no even if I sound like proper dick I am not risking it. Then Pudzz came to the rescue. Hey Dave Gaz wants you to park your truck outside his stall (RodKult) . ahh right so I had the excuse I needed to move.
I parked in good company right next to a fav rod of mine built by Mark Belcher ( who came and congratulated me the day before on getting my Truck done I was so chuffed) so I was now Happy in a better place and by some real nice cars.
Almost immediately people came to look, I raised the bonnet and showed off my engine bay and my coooooool engraved LPG air pan, That degs at http://www.engravingart.co.uk/ had done for me.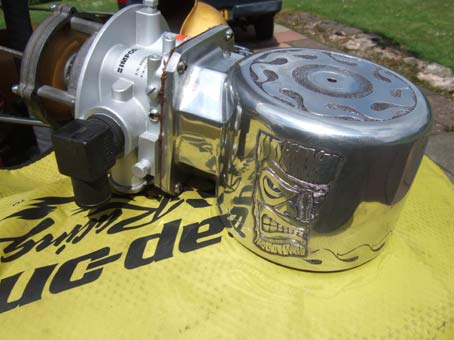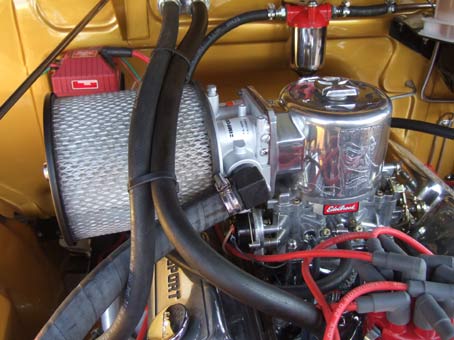 The photographer from HotRod Showcase came up and took some photos and asked if I would put it in the next edition... oh yeah I said I was so chuffed, but it was added they would appreciate it if I didn't speak to anyone else ;o( Which I was sad about as I am sure I am just like everyone else, even though HRSC is a superb, awesome in fact publication... some how Custom Car is our ultimate aim and to be a cover car is the ultimate... Also if it is thought good enough one of the Truck Mags in the US would be Ace... I have put so much of me into this Truck I do want as much fame and mileage from it as I possibly can... So we will see what happens, I would love to be in them all.
Well ya guessed it Mike & June Key where there almost straight after and asking all about my truck and also showed interest for a CC feature... ohh boy I was on cloud nine. I saw Mike clock it as I came back from the cruise Saturday and hoped he liked it enough to photograph it. You know it is such a great feeling, I cant begin to tell you how I felt... I was almost gigglin like a school girl inside ;o) ha ha......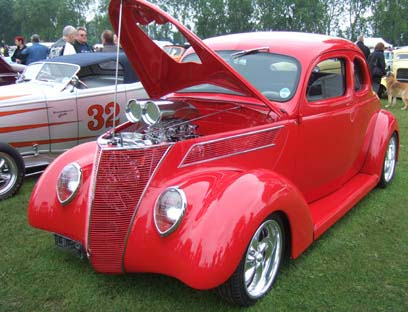 Participants Choice Blown 37 from Scotland
Well it went like that pretty much all the time I was stood by my Truck and I loved every second of it, explaining to people about the LPG mostly. One part that still chuffs me up even now a few weeks later, was two really cool looking Hot Rodders's ya know the cap wearing baggy pants tattooed neck style guys were asking me questions and seemed really interested in the LPG conversion and also complimented me on the F100 now that was cool.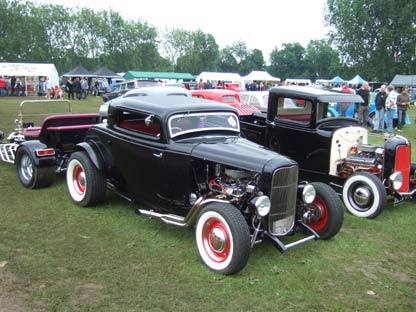 Just thought this was a cool trio
I know we all say I built it for me and fuk everyone's opinion I don't care... well I think that's shit, you gotta care what people think, or at least get a great kick out of people complimenting you on your build. It does matter, though ultimately your own opinion wont change if you love it and everyone else hates it you still love it... er I think ;o)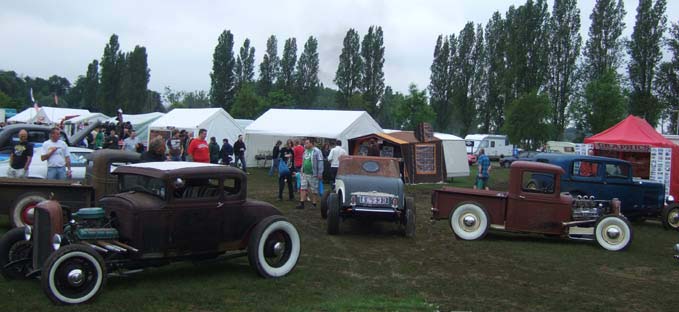 I loved this hot, I would love and A like this coupe as my daily Hell I would even wear turnup's ;o)

Not seen this nice 32 before I dont think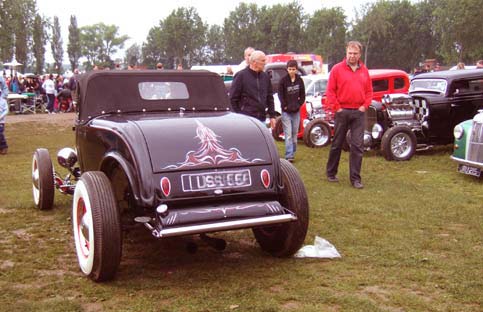 Real Nice Roadster, with what looks like Mellisa Gee's stunning as always artwork.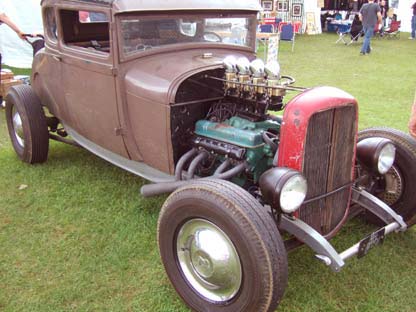 Kerry Tate's Coupe oh yes please, with new Buick engine. Them 50's Hemi's look great but lets face it their
shit if ya wanna go fast eh ha ha.. ;o)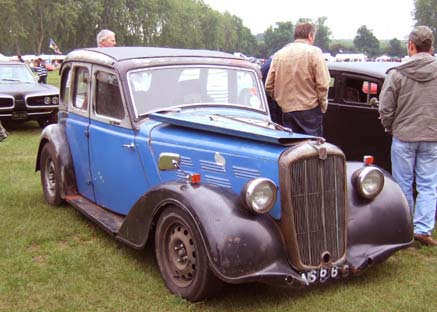 I have forgotten what Make of Car this was but it was cool and sported a Turboe'd Rolls Royce engine

See!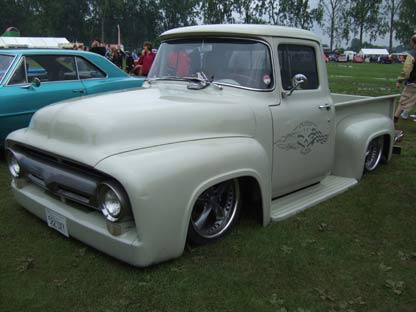 I saw this drive in and my heart sank... I was about to be upstaged....
Had a good look round the trade stands and the other cars on the show field, well when I say a good look round, I was so much on cloud nine I didn't really settle enough to take much in. I felt so hyper if I had been a Terrier dog I think I would of humped someone's leg in excitement ha ha..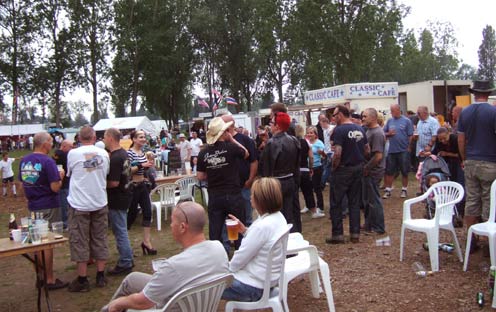 Everyone was enjoying the day (weekend) even if it wasn't sunshining much.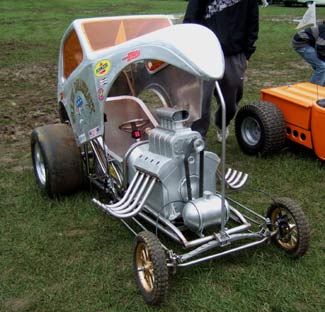 Ace topolino Tot Rod er Tot Drag Car.
Then I heard my name mentioned over the Tannoy to go to the NSRA tent and there I found out I was in the top ten .. wow I had built a car/truck good enough to be deemed worthy of a top ten place at Billing... WoW....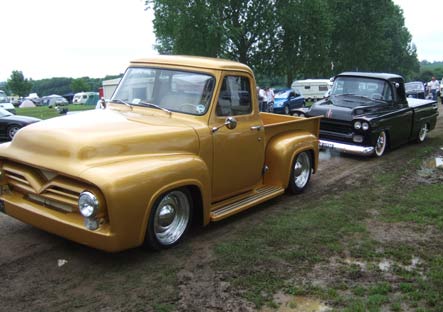 Nice Yellow Jeep lines up with stunning Fleetside.
I lined up with one of my all time favorite trucks... Stuart Reviles Fleetside... Hell no way... I was actually lined up with Stuart Revile... not to mention all the other amazing Rods and trucks voted in the Top Ten...
I really do not know how it happend... I was just laughing inside.. no fukin way me here in the top ten line up no way.... and when I heard my name and truck called and I drove into the arena.. with all the people there I just couldn't believe it.
Then a loud cheer went up from the Scottish guys I know and Pudzz and Bakey etc.. I almost got a tear in my eye.... almost I said ;o)... I was just so damn proud and so pleased my mates were proud of me to.. ahhhhhhhh It aint the trophy or really the top ten accolade. its the cheering and approval of your Hot Rodding (street Rodding Truck rodding what ever) peers that makes the whole thing enjoyable. And I am one of those who disagrees with Trophies at Runs I think if you don't win and you think you should of it creates bad feelings.. but that was far far from my mind as i got mine ;o)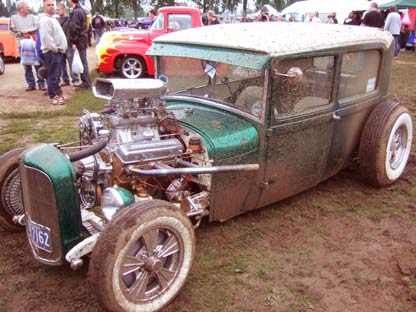 Bet this took some cleaning... maybe seemed like a good idea at the time.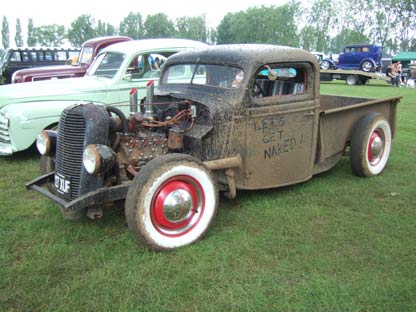 Adds Character ;o) Yes....no..?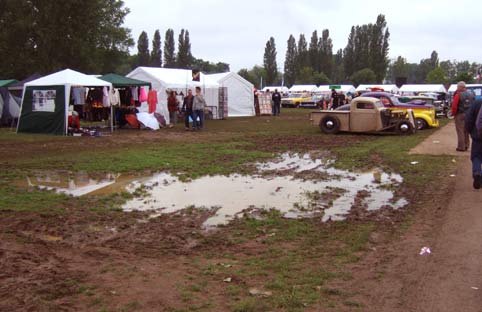 Lots of Mud if you felt that way inclined, saw a few mud surfing, Glastonbury style. Hey is that Pike and Suzy's 36 clean and there is Mud about... I think they were far to busy playing in the Willys.. or was that Suzy playing with Pikes Willy's. or is it Suzy with the Willy's.. what a strange world we live in ;o)
And then we dropped camp and went yam!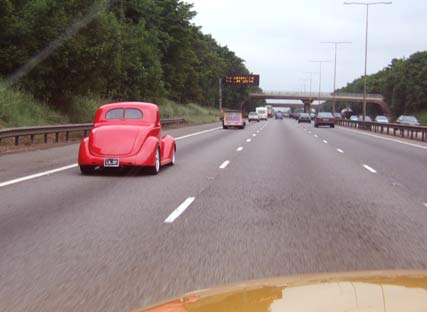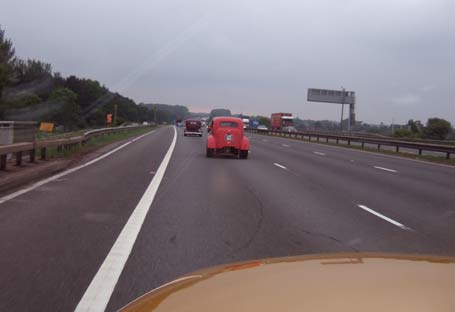 My athletic Mate Bakey and his cool Pop.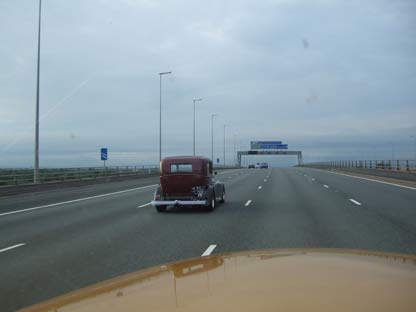 My good Mate Pudzz in his 32 as we crossed Irwell Bridge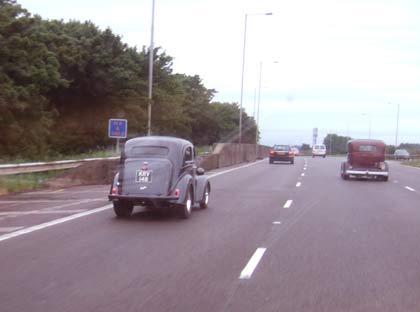 Saw this nice Pop on the way home, driven by what looked like a young lady not sure it had been at Billing.
The End
More photos