Wet Wild and Hot!

---
Riverside Rod & Custom, annual Wet and Wild Bash at Chasewater
Again it was a Saturday afternoon start for us 3 finely honed Athletic types from Cumbria, for our annual jaunt down South to the Wet and Wild run. I had read somewhere that real Hot Rods have tools in the trunk and show cars have polish in them *hum?* I take my tools when ever I go out in the 34, which is ultra reliable but funny enough in the owd slapper of an F100, I never have a single tool with me???? So as my Fat mate Pudzz always takes everything bar the kitchen sink I thought I'll leave the tools in the garage this time and show total confidence in it's reliability and also keeping true to its image all show no go Ha Ha it was devoid of Tools this time.... It was just a fantastic drive down as my mate Slim Bakey in the 53 Anglia wanted to drive down at a more leisurely pace this time, we agreed to keep it to below 70mph and not rush!.
It was Cool at this speed as most of the traffic passed us for a change and the amount of rearward facing passengers was fantastic, They looked like a bunch of winda lickers at times with their mouths open and faces pressed firmly at their Car windows as they passed us :>) I thought it brilliant how many of them gave us the thumbs up though... Even wagon drivers and Workers (yes Workers) in there white vans showed their approval.... with a whole brace of bored kids who's journey must of been a little bit more enjoyable at seeing, Three old Fat gits in these funny looking cars :>)..
We arrived at Chasewater which is very near Drayton Manor and we were made to feel very welcome by the Riverside club members who run this event, Al Williamson and Dave Sidaway being two people I know from the e-mail group so I had a good natter with them at the registration marquee. They told me Kev Rooney, had made the journey up from Portsmouth and paid his camping fee even though he wasn't camping there. Kev just showing his backing of the club in real terms which they and me thought was kinda cool.
Kev had done the cruise that afternoon but was now off in search of some digs for him and Marion as his days of roughing it with the riff raff are now well over... So it would be Sunday before he would be back at the Camp and we could finally have a good natter..
I had a quick drive round trying to find a suitable plot for our camp and a quick sken of who and what was there, the local club had some fine looking Cars in their coral. Though Rods were a little thin on the ground elsewhere.. There were quite a few Yanks, Trucks and some cool Brit tin dotted about.. Though as always at British Rod Runs a lot of std Tosh! I know many will be building Cars and just keeping in the scene but I also get the feeling as I do at many Rod Runs some are Hot Rod Groupies... by that I mean they love the scene and the cars but will never have the bollix or commitment to own a Rod.. why??? If all the stockers were Rods WoW what Rod Runs would we have.... if we can just convince these guys who are obviously into the scene, to park up the 4x4 or 820 Rover and get a Rod as a 2nd Fun car we would have a massive scene no need to look outside our own...... Just an observation :>) Talking of commitment to our scene I saw Dave Browns mind boggling Ally A40 Van there, now there is one guy with commitment to our scene how many are prepared to chuck that much effort and hard earned at one of our cars!!!!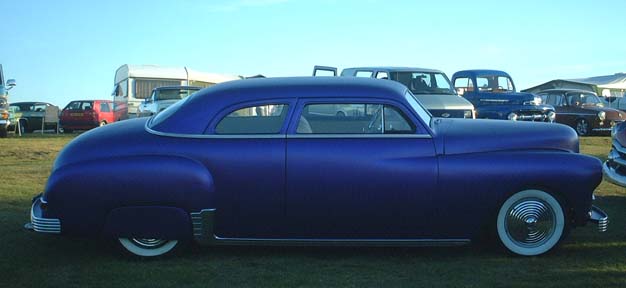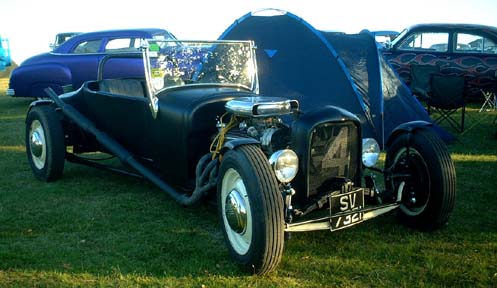 When we finished our camp site cruise, we found a suitable place for Camp Fat Git which happened to be right next door to Nige Lockley to his surprise and shock "oh no not you noisy lot!!" Nige is building a very Cool Zipper style 34 ( see the garage scene). Over the way from Nige was the Cool Cars of Crusty (27T) , Tracey (50 Plymouth) , Lynne Stafford (50 Ford) and Adrian Smith's Jalopy Truck leaving his wild A at home. It was great to see these guys show their support for this run.
I had swapped a few e-mails with Lynne over the past year but had never met her, I have loads of photos of Crusty's T, Tracey's Plymouth and Adrian's A on the web site, but again never met them. All of these guys are Hot Rod celebs having all appeared or been featured in Custom Car at one time or another.... Lynne had described herself to me as the one with the Bright Red Hair so there was no mistaking which one she was....
I got talking to Nige Lockley after we had pitched the Tents... and I was having a Cool Tinny or two first to relax & get a bit a dutch, then I was going to go and introduce me sen to this Group of Groovy Looking Rodders which I was really looking forward to............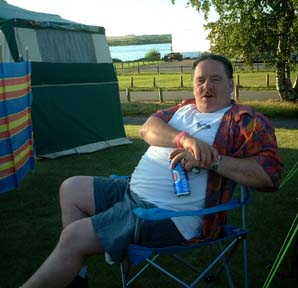 Bakey just chilling, Many hours down the Gym and you to can look like this..( as long as ya don't go in)
But before I had downed me 2nd Can they came over to us, I knew Lynne right away and gave her a welcoming peck on the cheek though a dirty old man on the lips one was in my head :>)..... We all got on like a house on fire and the banter flowed, so did the beer. It is meeting up with people so into our scene like this that I proper enjoy and when they tell me they have read my web site and enjoyed it that is so bloody Cool and satisfying....
It was a beautiful evening the sun still very hot and high in the sky as we all got to know each other... Though Bakes and Pudzz had convinced them Bakey was a Porn film Maker.... and seemed to excite certain people who shall remain nameless as they wanted to be in his next production......... Bakes is a Cameraman but a freelance one who does the news for the BBC, though what he does in his spare time is anyone's guess hey it may be true :>0 he does look like one don't he!! Most people where now leaving the camp site and making their way to the Club house for the nights entertainment.. While we sat and had a few more cool ones and made are way up there much later on....
By the time we made it to the club house it was bouncing, with hundreds of people outside enjoying the warm summer evening by the lake, we met up with Crusty and the Gang and had a good laugh... though by now they warned if Bakes was tekkin da Pees he will get slapped :>)... The dance floor inside was rammed and everyone looked like they were really enjoy them selfs..... A fire eater was outside doing his thing and it had a real friendly Party atmosphere... Bakes did his magic tricks, then hit the Dance floor thinking he could still do his Northern soul routine without coming to any harm Terrrrrrr its hard enough doing a triple spin when ya 19 and 11st but at the neck end of 50 and twice his teenage weight the inertia is quite colossal and when ya legs stop spinning ya fat Bod keeps wanting to turn yerrrkkk he popped his knee..... and looked quite distressed as he hobbled of the dance floor, but he was full of anesthetic so he would survive.. The night was soon coming to and end and the club was now empting quickly as people made their way back to camp..... The night felt young, so it was not going to end quite yet was it?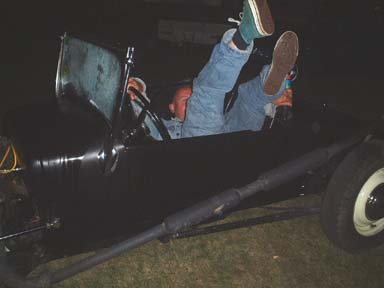 Did he fall or was he pushed?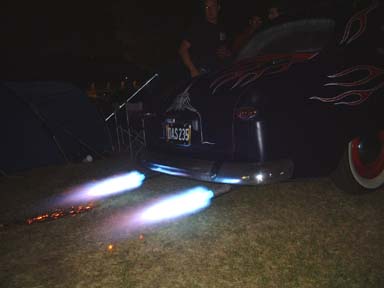 There was music coming from somewhere on camp so I felt it was ok for us to still pardy!! Lynne fired up the 49 so we could get a few burgers cooked on her flame thrower exhausts.... Which looked so wild in the dark of the night... I don't think everyone was amused but Hell this is Wet & Wild aint it, so here was the Wild bit eh!
Security came over to see what the commotion was but they were really civil and I think pretty impressed...
Fun over we ventured back to Camp Cumbria, Bakes was pooped from his night of wild dancing so went to Kip, Pudzz and me had had a lovers tiff so he knobbed off aswell in a sulk.. So what could a man do? I cracked another cool one, put on me sounds and sat and chilled... I had said to myself this year I wasn't gonna do a 5 O'clocker and wanted desperately to be sensible and get to Kip early so I could enjoy the Sunday Show day... but I felt far to awake to crash out yet........ One of the uk-hotrods e-mail group members Paul G and his misses joined me and we had a good owd natter till around 2.30am and then sensibility took over and I called it a night! What a great few hours I had had at Wet & Wild 2003.. Yeeha Come on Sunday... I kept waking up in the night as we had camped on a slope and because I was in a lightweight shiny sleeping Bag I kept sliding down the tent and ending up at the door where I would shuffle myself back up only to find mesen all the way back down at the door an hour or so later... all to the Tunes of Bakey snoring and sleep shouting !!!!!!! Oh Boy I'm gonna be Knackered again on the Sunday this year aswell Terrrrrrrr!!!
---