NSRA Hot Rod Drags 2003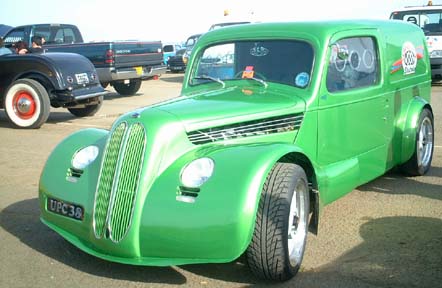 Lee Andrew from Devon's Cool Thames Van with a Hot 2ltr Dolomite engine (originally built by Geoff Kremer) Lee has done a stunning remake and remodel of it!
---
I was really looking forward to going to the drags this meet, as while I was at the Supers I was Contemplating why my 34 should have such High ET's 15.0s. I was discussing the problem with Drag guru Paul Nichols. Was it inadequate quenching from the late model heads?, or wrong Cam?, manifold?, head match? as the main symptom was pinking, that would only stop when the timing was so far retarded the car would Bog on stamping the throttle...............then like a flash from the sky.... quenching?..... inadequate?... Da Da!! not burning the fuel low spark bladdy Ballast resistor I thought.
I have a voltage regulator box and the ignition is electronic, same as my truck that has no resistor so my theory was, the electrickery boxes already dropped the voltage to 9v at the coil and I was now dropping it further with the resistor.. I discussed this with a few knowledgeable people, most seemed skeptical though did agree it could be the cause.... I bye passed the said Ballast Resistor and whoomm the car started instantly which it never did before, it was always an embarrassing 5 or 6 turns before it started.. I took the car out and I could feel the difference without even trying it now pushed you back into the seat with even light pressing of the go pedal, so much so even my misses commented on how much faster it felt...... so have I cured it? will I have lower Et's ??? I would only find out at the drags...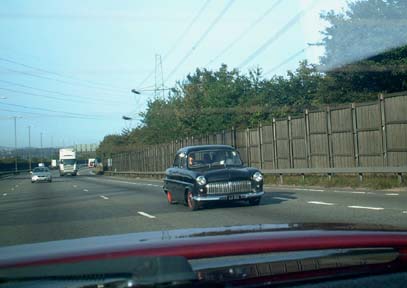 Another part of the going to the Hot Rod Drags equation was a guy I know was selling a Quaiffe diff to fit my Volvo axle, I had been trying to get this diff for a couple of years and Shifty the guy who was selling it, always talked silly money commenting it cost originally a thousand pounds *hum?* I was now doing a deal where I would be its new owner for £150......A deal I couldn't miss... so there went my HRD money :>( So resided to the fact I wasn't going to the drags, I felt real down, but at least I had a Quaiffe diff now!
Sat 4pm at work, I get a phone call what time we going to the drags then? Eh? I had forgotten I had told one of my old Banger Mates about it and he was still wanting to go, he is mad keen to own a Truck and really wanted to go.. I told him the crack and he said no worries just get in with him and his lad and share the fuel it wont cost much *hum?* So I thought about it for 2seconds and said yeah but I had to Ok it with the misses :>) We decided just going Sunday would keep everyone happy Terrrrrrrrr!! So Sunday it was..
I drew the short straw and had to lay across the back seats of Lanky's (My Banger Mate) lads 100sx or was it 200sx? A Nissan sports car anyway and for an old guy like me I was mighty uncomfortable but happy to be going to the HRD. Again all the way down Rods were no where to be seen, we only saw a Black Consul and a primered Vauxhall Victor, though we saw a 70's F150 black and flamed going in the opposite direction...?
We arrived at Skakey and were met by a massive queue waiting to get in, Jeez looks like a lot of spectators we all said then I noticed a Car Boot was being held at the top end of shakey and that was what the queue was for... Once on site Rods looked few and far between but what we could see looked Class. Young Jason ( Lanky's Son) was really impressed when he saw Mark Grants Flamed and Big Billeted A Sedan close by and was eager to get looking round.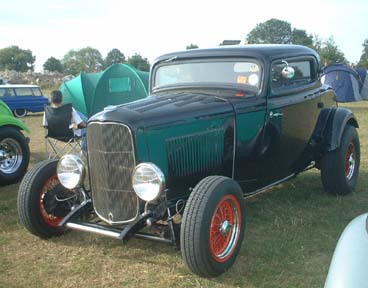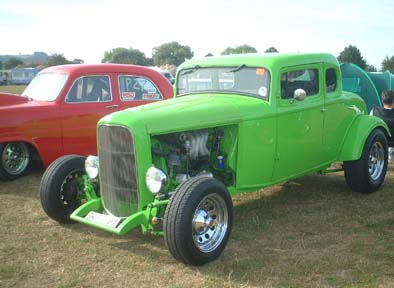 Two Rodders not put off by the weather forecast a cool 3 winda and a neat 2ltr efi 5 winda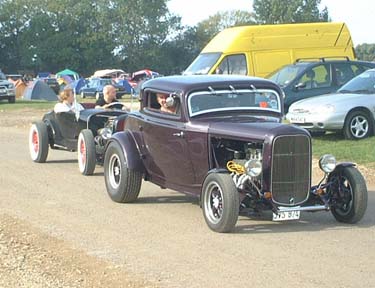 There seemed to be an abundance of normal daily drivers parked up, with a light splattering of Rods and stuff we had come to see. There were quite a few 50's Trucks about, which seem well in vogue now. It seemed like they were everywhere, unless it is just I am tuned into them... The first Rod on the move we encountered was Keith Harman in Surry Street Rodder Graham Smiths 32 he stopped and we had a natter, there is something rather cool I feel about someone in a Rod stopping and chatting to you, it's weird its hard to explain but it just feels so much more intimate and Groovy than just meeting someone walking along......
Though I could feel a buzz in the pits it also seemed quite laid back and not at all Mad like the other times I had been. I then had what felt like a small Dog attack my leg but on turning round it was me old mate Toad grabbing me leg and yapping like a small terrier *hum?* must be an old southern custom I thought.. I think I got a bit of an insight as to why many Rods had not turned up as he also hadn't brought his and Toad never misses a Rod meet in his Rod.. But the weather on setting off was so bad he decided to only risk it in his daily I guess he wasn't on his own in that choice.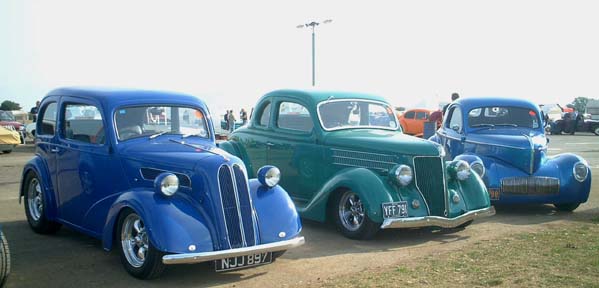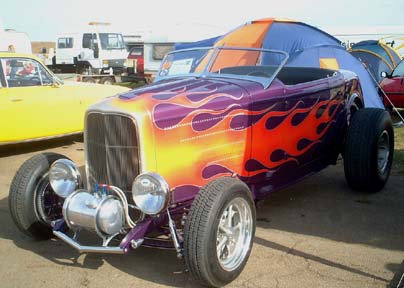 Toad was now gutted as it was just brilliant sunshine and it stayed that way all day... The Mad queues of, down the fire up lane, out into the pits and right up and round the top corner as was the norm at the hot Rod Drags was now confined to just the Fire up road. Which made for some quick turn around's and made it so the Rodders who had turned up, got in Run after Run. The racing and I have seen many drag Racing events over the years, was cork'in. I noticed several people I have come to know real well do Run after Run and they lapped it up, some of them were, Damien from Scouse land in his flamed A sedan, Keef in his Yella Pop and Al Williamson in his Great looking flamed Chevy truck which managed a very respectable 14.0 with a little sniff of the funny gas!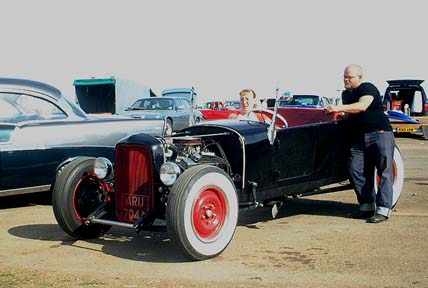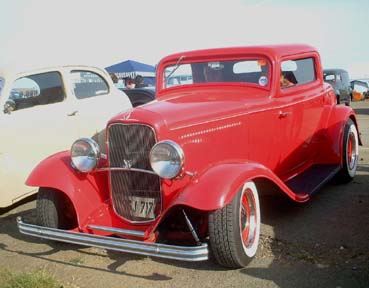 The Girls where out in force aswell with Lynne Stafford trying to over come the almost full track tyre smoking she had done all day Saturday not bad for a 50 Ford eh! Adrian Smith was trying a few tricks which seemed to cure the tyre spinning as she did some fine blasting runs running side by side with Tracey Perks sporting a sexy new bit of Pinstriping and stuff on the rear of her sled which looked real Cool..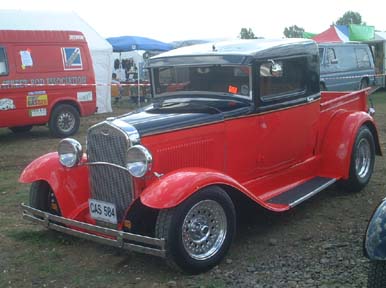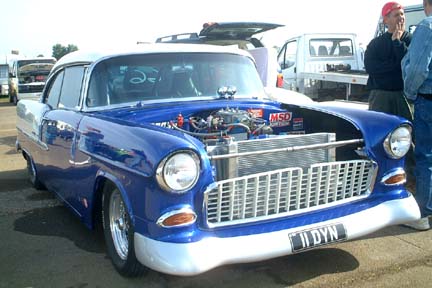 If the people who I had gone with had the money they would of gone back with these two, The Father in the A and the son in the 55.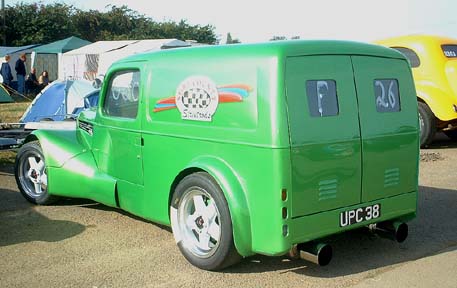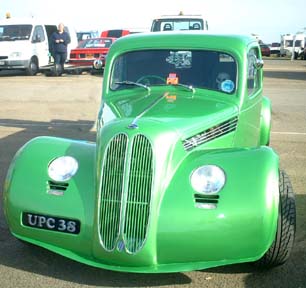 Lee Andrew is responsible for the rebirth of "Thamsey" Geoff Kremer's Old amazing handling Dolomite sprint powered Channeled Thames Van.
The day was spent just chilling, I could have a beer or two as I wasn't driving, Lanky and Jason loved the racing and this was interspersed with several looks round the decent amount of trade stands and the few Rods that were in the camp area who weren't up for racing.. I met loads of people I have met through doing this web site and the chat room and we had a good crack while watching the days entertainment... There were some real fast runs and one notable for me was seeing Geoff kremer's old Thamesy channeled and sectioned Thames Van now being given a rebirth and a brilliant job the new owner Lee had done of it, it looked stunning in its new green livery and went like crazy another 14 dead and from a 2ltr Dolly lump... The Outlaw Anglia's were another favorite with some wild times and rides. Mike Callan's street driven (as opposed to street legal) Pop looked peachy, drove dead straight and launched like a scalded cat.. The more race orientated Pops and Thames Vans were quicker but this one is driven to the Rod runs which makes it more Wild.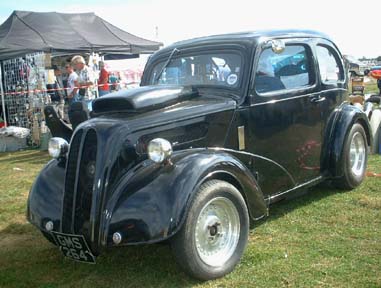 My old Pop now all changed.
While looking round the trade stands I spied a reg I recognised GMS 264 my old Pop now all changed.... In the pits was a gorgeous silver Lincoln and it was for sale stating Offers.. then underneath bloody sensible ones :>) Lanky's son Jason was drooling over it buy me this Dad so much Lanky even phoned the number but there was no reply.. Though I doubt he would of bought it I think he was just curious...
It was all to soon time to set off home, we all agreed we had, had a excellent days entertainment the racing was bang on, the cars brilliant to look at, and the weather couldn't of been any better... and all topped off with some good company.. even now back home I can still see Dave Biggadyke running round like a blue R'sed fly all day with his camera in his hand and I guess making sure it all went swimmingly. I must add Keith Harman did a perfect job of commentating all day and he would give John Price a run for his money any day I reckon!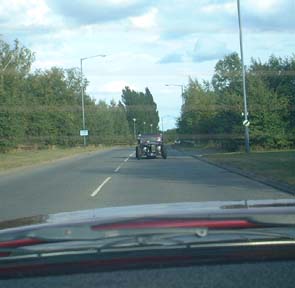 The talk on the way back was, Jason would of loved the Lincoln though the Hard running 55 Chevy would also be in his Christmas stocking, for me it was the Orange 46 Chevy Truck (Gary Morgan's) in the pits but I'd put a SBChevy back in it *wink* and Lanky would of loved to be cruisin back in the Red A Pick-up.... Though to be honest he is such a rough R'se he would be better with one of the Beater Trucks in the camp site :>) Seeya all at Sheffield ?
Sorry not many photos but the camera batteries gave up the ghost and my newly charged spares where flat Grrrrrrrrrr
All the way back to Cumbria apart from the above mentioned Consul and Victor this 32 was the only other Rod we saw on the road..
---