Wet Wild & Scorchin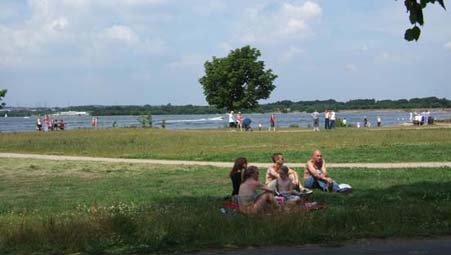 Your Choice sit in the shade or go wild in the sunshine.

---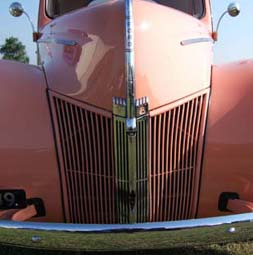 Hi, not really got time to write this as I am off to Benidorm at 1:30am tomorrow morning. I am just stealing a couple of minutes while the wife is out ;o) ( is this what it has come to?)
Fantastic run down as usual this time on my motorbike, a cruiser style with wide beach bars and forward pegs, cool at 60-70mph wrenching my head off at 80-90mph.... needless to say my neck was hurting by the time I made it to Chasewater park, home of the Riverside's annual Wet and Wild shin dig. The guys and gal's from the Riverside club put a lot of effort into this event and as it fairly local to me at 160miles away, I make it my choice of Run over anything else that may clash with it.. down south a major run called Thorney Island was on same the weekend so you had to make your choice.. Well for those that missed this run here it is as I saw it.
---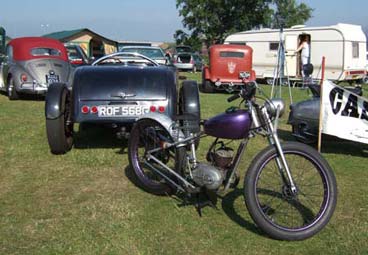 There were some cool bikes and Rods in the camp site and this little engine'd cycle caught my eye.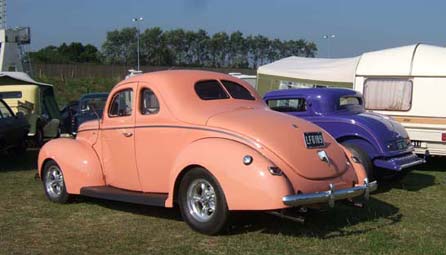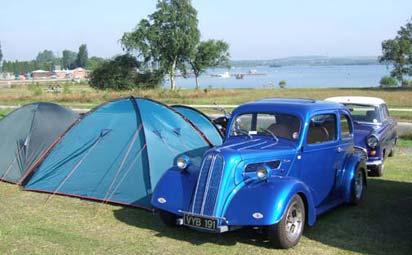 Peach 40 is here each year.
Blue Pop is my mate Lanky's first Rod and first Rod run in it. Behind is Jay's (Lanky's son) V12 Consul.
Weather was awesome and scarily hot, so much so I am still paying the price of no suntan cream.... oooh boy am I sore. There were quite a few Rods in the camp site when I got there, who had stayed the full weekend.. The celebrity Rods and Rodders were noticeable by their absence well all bar 2 one a real cracking 34 and I heard Pete Whiteside and Sandra were here somewhere with their beautiful 36 ;o) Like it or not, it does take people who are well known in UK Rodding to attend these shows and in their Rods, for them to get the respect and patronisation shows like this so well deserve... in my opinion anyway.
My mate Lanky and his son Jason, said they had enjoyed the weekend so far. Even though Saturday night was fairly quiet and lacked the boob flashing from previous years.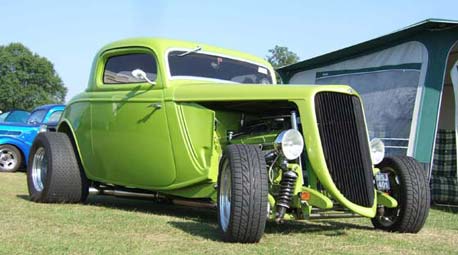 Hi-Tec Billing winner a couple of year back was great to see at the Wet & Wild do Owner's name escapes me at the mo. Groovy looking Pop also was lurking in the camp site.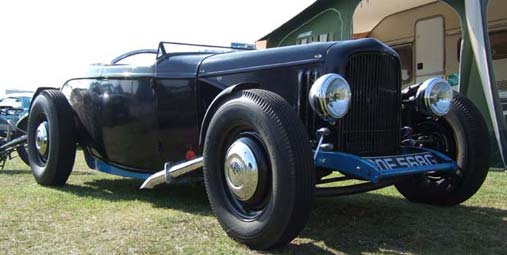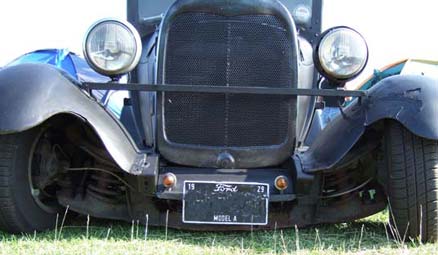 I think this is a case of Low Boy and Oooh Boy Low.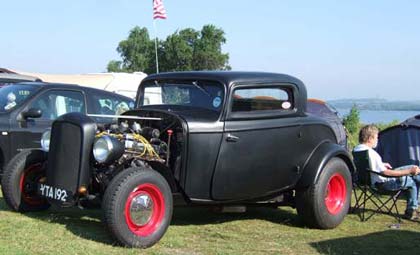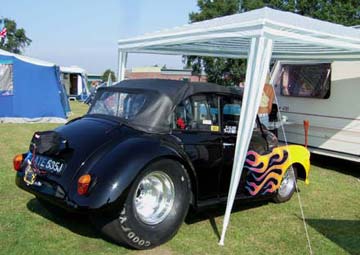 Suede black 32 and mad as a box of Frogs pro street Moggy (ran a serious power plant) rubbed shoulder at this event.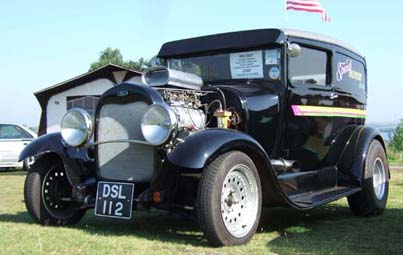 Looks cool as ever the old Rod shop A delivery up for sale at £7.500 sounds like a bargain to me.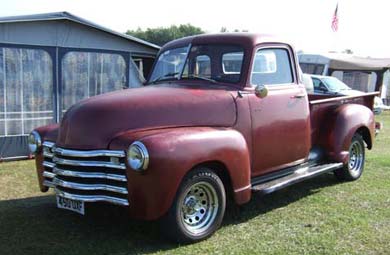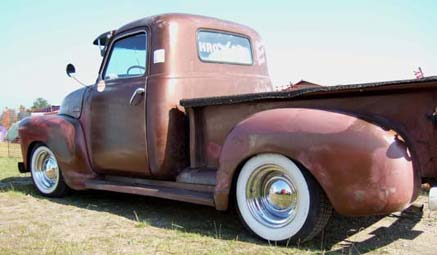 I do like my Trucks, one looks well with its spiffing new grill and the other sturdy Birds, look's well with its new chrome smoothies with whitewalls gave this old bird a whole new look.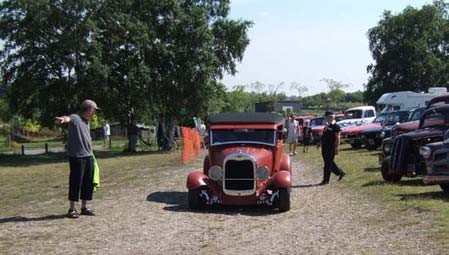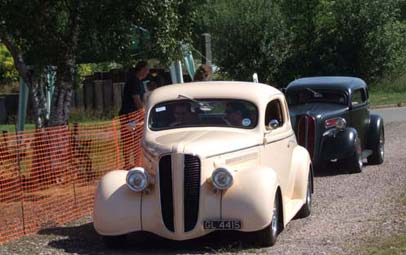 And the Sunday Rodders arrived, Graham *get them door gaps perfect* Young was in his Red oxide A. Hot Rod Babe Michelle Hay arrives with hubby Chris in the oh so cool 36 Dodge, looking as good as ever.
The show field filled quickly, with many show day only Rods attending, if this show/run does get any bigger though the venue will struggle. As the show field from a couple of year back is now a picturesque walk and cycle way, for the people who use the water sport facility, while it looks fantastic it is no help for the car show.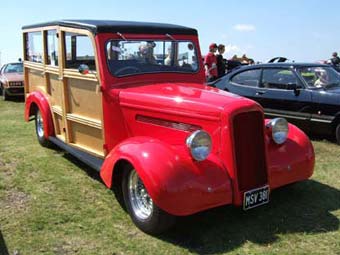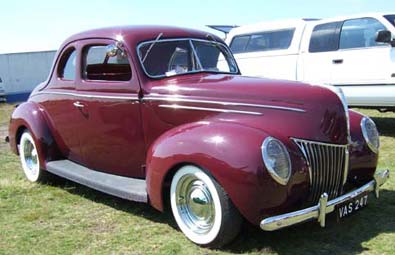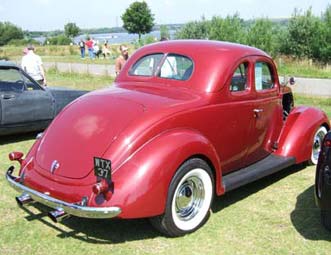 Some real nice stuff dotted about the show field
I met a few of the Riverside guys who run the show and they asked if I would choose the NASC pick, as nobody from the NASC had turned up? Well I was very honoured and pleased to do so, though it aint no easy task that's for sure. I narrowed it down to 6 or was it 7 cars.. I had decided my choice would be the one I would most like to drive home... which would of been Michelle Hay's cool 36 Dodge without any shadow of a doubt... I think ;o) It may of been the sight of Michelle bending over the trunk of the dodge to get something out that made me decide... at the time.... I was so impressed I forgot to get a photo ;o) But I still kept looking round not wanting to make a hasty decision and I wanted to do this as professionally as I could.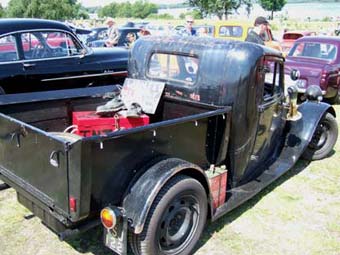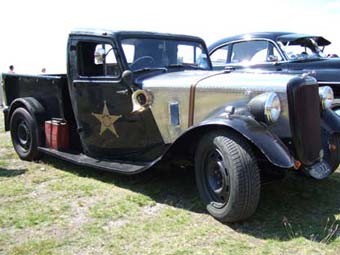 What can you say... Chopper Hobbs rules!!!
Ya know Chopper Hobs pick-up just knocks me out and I really wanted to choose that... oh and the Green and scalloped 32 that was done 60's style, also made me not know which to choose 100% *hum?* A primered & chopped Hudson (owned by Rupe Chambers) also shouted to me I am the one...... But every time I was drawn back to a super neat Gold Pop.... I had a chat with it owner earlier on in the morning, before I was asked to do the NASC pick and I thought it a stunning looking machine with lots of nice little touches, that all flowed together to create a real nice Rod... in the end it was Michelle Hay's Dodge, the Green 32 or this Gold Pop... though if it was for my own say uk-hotrods pick I think I may have gone for chopper...*hum?*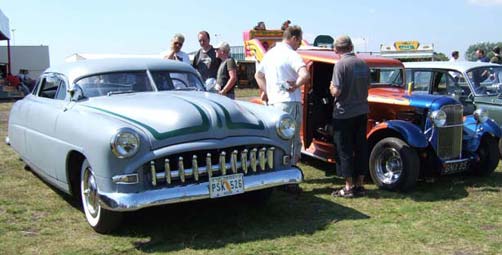 Nice and smooth with a touch or Grrrrrr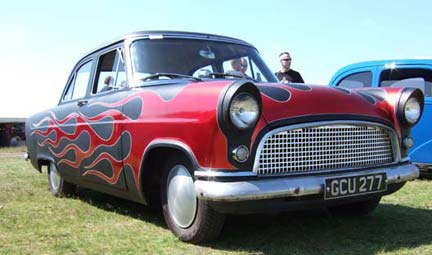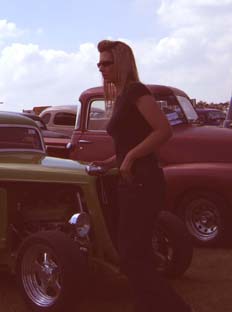 Looks not bucks Zephyr was HRG choice.... The owner wasn't lacking in the looks department either that's for sure eehhh it's great being a dirty old man! ;o)
I kept going round the cars that stood out to me, as having had a lot of thought gone into them.. I discounted Michelle's in the end, as it had won trophies before, I really loved the overall look of the Pop and thought it would be more an NASC style car so that was my mind made up, it was the Gold Pop... I knew the 32 would be in the prize giving from the other judges top 10, so all would be fair as can be with these type of things... which for the record I am not a great lover of.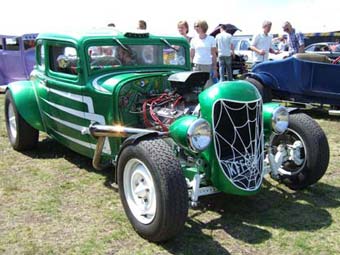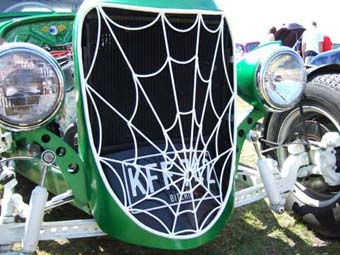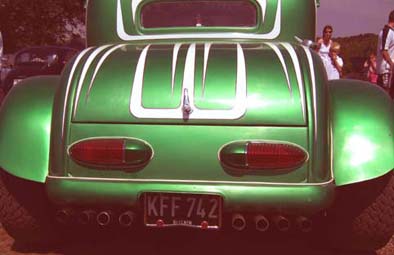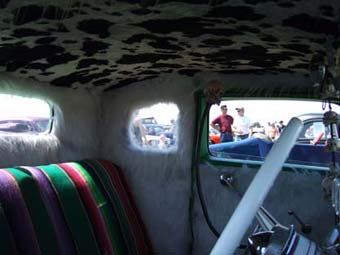 Hip Daddio 32, really pushed my buttons, was a 60's style Rod right down to its 8 rear pipes. I loved it.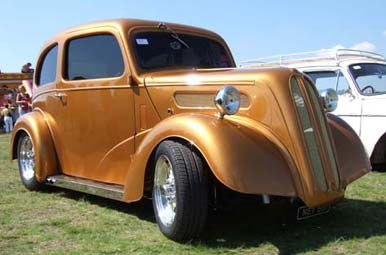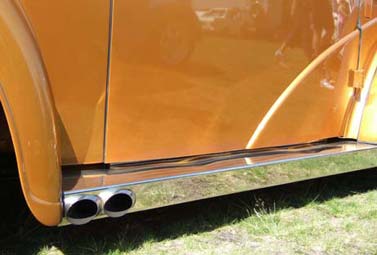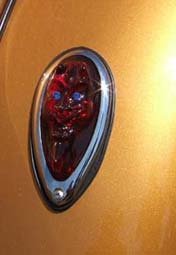 After some soul searching this was my choice for the NASC pick, just because I thought it was fresh in style and execution. The running boards don't only hide the exhaust pipes they are the exhaust pipes, I loved the colour coded mesh used on the grill and the devil rear lights with blues dots... it was little tricks like that that made my final choice be this one. Yep my heart said the 32 my head said the Pop.
It was great to see the other cars I love also be the choice of the Riverside and Shaun Wilson's picks.. The Flamed Zephyr with the most gorgeous owner, The Red oxide A Delivery of Graham Young's, the afore mentioned 32 and so on. I presented the trophy to the owner/builder of the gold pop, who was only a youngish guy with obvious talent for Rod building, he did look very pleased.. That was my duty over and also my prompt to leave, as it was getting on. the sun was still burning me and my miss's wanted me home so I could take her out for a meal...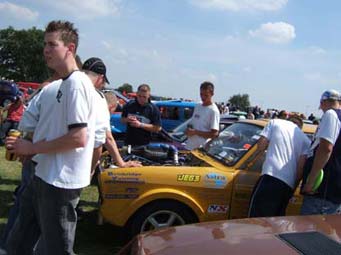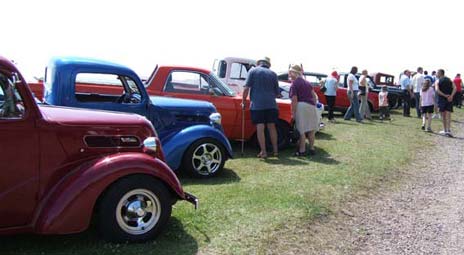 I missed the moment every one of these young Chavs had their collective heads in Ian Whalleys mad mk2 Cortina's engine bay, I switched my already on camera off Derrrr . Riversway club had a good local turn out.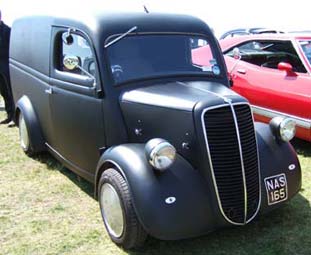 Matt black seems big here to, Pop was mega cool could even of been in my pick list, just the front indicators that didn't work for me. I remember putting the same on my 34, loads of work, thought they were ace.... then ended up realising there were many lights that would of suited it better.
It is now Tuesday and I am getting stuff sorted for our hols and my miss's said you should of fixed the caravan blind instead of naffing of to a car show Sunday (and we aint even using the caravan for another 3 weeks) hey ho eh!!! The pleasure of giving yourself pleasure I guess... Sorry I have had to rush this. as otherwise it would be a week or two before I could find chance again... there is so much I wanted to say... I will leave it for another write up.... Keep Rodding and keep talking to each other.


The Water games were great to watch ;o)
Well that's it done didn't think I would find time.... seeya all in a weeks time after me hols but no big runs for me this year, hopefully I can make the Hot Rod Drags though Byeee!! Holmsey!
---