The All Star Nationals by Odgie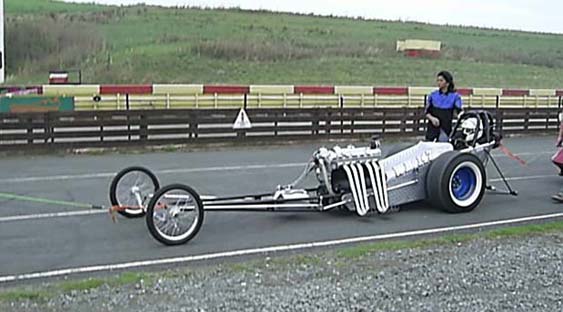 ---
Just a quick intro for those that don't know. Odgie is an old mate of mine from back in the 70's, who has been there done that. He was the editor of Back Street Heroes and his own mag AWOL. He was heavy into the biker scene, but his rootes also included Hot Rodding See my history for a photo of his old pop. Odgie is now getting back into the Rodding scene but has his own distinct style and slant on what rodding is about for him. I was real interested in what he would make of Rod Runs now and he sent me this cool e-mail as he often does, giving a nice insight to how someone who has no idea of the politics, or the latest trends, see's the scene.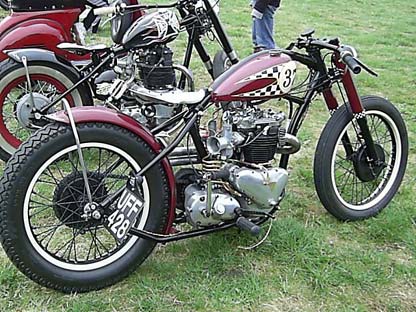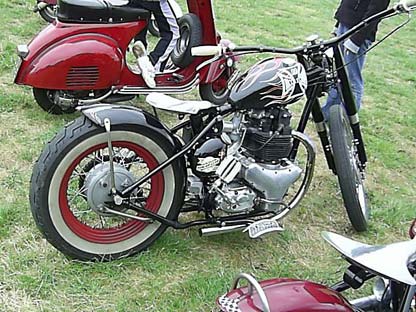 Yo Gang, just had a groovy four days away at the AllStar Nats drags at Avon Park Raceway. It was a National Championship drag meet, with a hotrod run, show 'n shine, and also Pre-65 1/8th mile nostalgia drags on one of the spare runways. That was way cool, all the old rods snaking away scrabbling for grip on the tall whitewall crossplies. Plus there was a nostalgia race car marquee, with some of the old original drag cars like Money Hungry and Gonzo the Great. We didn't think we'd be able to go cos it was 40 quid each to get in, but managed to blag two free passes in exchange for doing a bit of marshalling at the 1/8th drags - which was s-u-c-h hard work, standing right on the start line in the sunshine directing cars into stage... Tee Hee!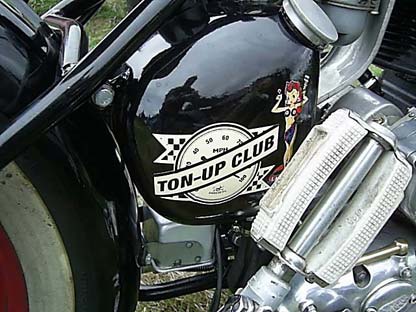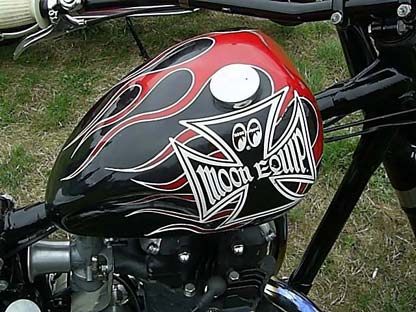 Didn't do too many photos cos most of the stuff there was a bit shiny... But check out the Jag powered slingshot - well gorgeous, it just sits so right, every time we see it we go and drool over it. And the red primer rod was sweet as a nut, only a young kid owned it, powered by a little four-banger and built from old bits and pieces - way to go dude! But the bobbers were the coolest - how nice are those bikes...?!?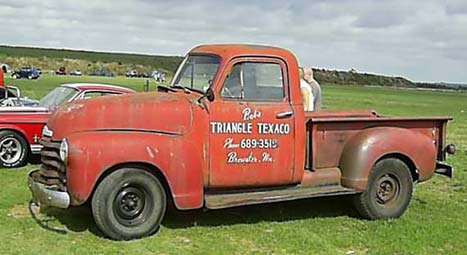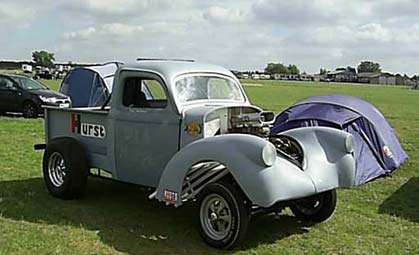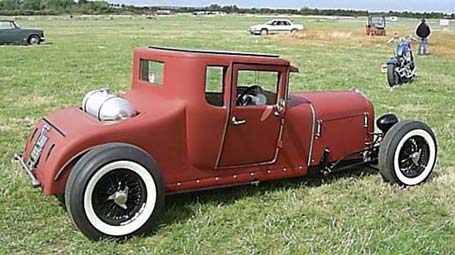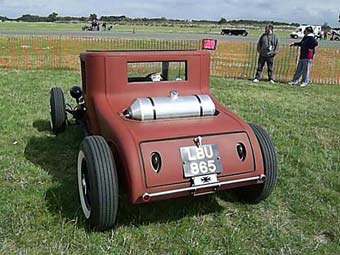 This is one real Nice 27T coupe.
Other entertainment of the weekend included some madcap psycho-billy bands in the beer tent, and Mr and Mrs Precise, who camped just across from us. Everything was perfect, the tent and awning had proper right angles and perfectly tensioned guy ropes, they had two barbeques, one for burgers and one for beans, and every time they used anything they sprayed it all with Mr Muscle and wiped it off before hanging it up again - even their table and chairs were in brown teak-effect plastic rather than white. We became fixated by them, they were still faffin about cleaning up after breakfast when we came back for our bloody dinner, Gods knows if they ever saw any racing, then at night they just sat and watched a portable TV all night. Excellent value for money, hope we get to see them again. Odgie!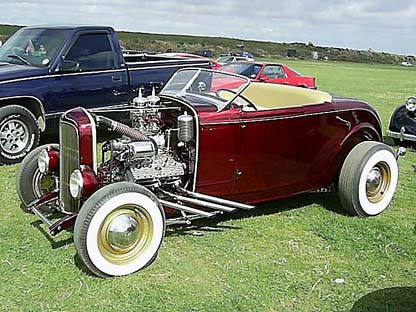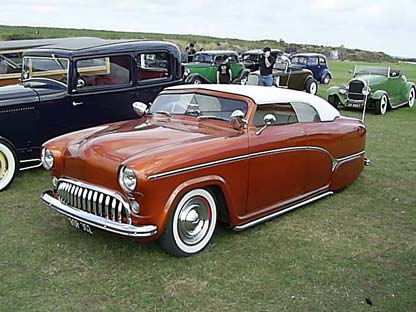 Hey Look 2 shiny Cars Odgie felt cool enough to photograph ;o)
I wasn't to sure about putting the motorcycle shots, Odgie sent on here, as this is a Hot Rod web site. But they do share very close links to Hot Rods and becoming more and more part of our scene at each Meet.
---